English homework
Single-page, printer-friendly English homework PDFs that you can use with many ESL classes. Answers provided.
Level: pre-intermediate
Homework: Present Continuous I am doing, I am not doing...
Homework: Present Simple I am, I am not, I have, I don't have...
Homework: Future Simple I will do, I won't do...
Homework: SHOULD/SHOULDN'T you should do, you shouldn't do...
Homework: Past Continuous I was doing, we were doing, they were doing...
Homework: MUST vs HAVE TO must do, mustn't do, have to do, don't have to do...
Homework: Comparative Adjectives colder, better, easier, more expensive...
Homework: Superlative Adjectives the smallest, the worst, the most expensive...
Homework: Definite or Indefinite Article a, at, the
Homework: Demonstrative Determiners this, that, these, those
Homework: First Conditional If you go to bed late, you'll be tired tomorrow
Homework: Second Conditional If I saw a snake, I would scream
Homework: GOING TO it is going to rain...
Homework: Prepositions of Place at, in, above, below...
Homework: Prepositions of Time at, in, on
Level: intermediate
Homework: Countable vs Uncountable Nouns job/work, suitcase/luggage...
Homework: Tag Questions It's cold, isn't it?...
Homework: Phrasal Verbs put up, turn off, break down...
Homework: Future Continuous I will be doing, I won't be doing...
Homework: Future Perfect I will have done, I won't have done...
Homework: Past Perfect Continuous I had been doing, I hadn't been doing...
Homework: Past Perfect I had seen, he had seen...
Homework: Reflexive Pronouns myself, yourself, himself, herself, itself...
Homework: Adverbs of Place where, here, there, downstairs, everywhere...
Homework: Adverbs of Degree fairly, pretty, quite, extremely, totally...
Homework: Adverbs of Manner badly, well, slowly, easily, loudly...
Homework: Adverbs of Time now, then, yesterday, tomorrow, earlier...
Homework: BE USED TO vs USED TO I'm used to waking up early / I used to wake up early...
Homework: Third Conditional If I had known it was your birthday, I would have sent you a card
Homework: Coordinating Conjunctions for, and, but, or, yet...
Homework: Subordinating Conjunctions although, despite, while, because, since...
Homework: Indefinite Pronouns somebody, anybody, nothing, everything, anywhere...
Homework: Infinitive or -ing to be/being, to do/doing, to eat/eating...
Homework: Passive Voice is made, are used, was born, was invented, were stolen...
Homework: Past Simple vs Present Perfect Simple I did vs I have done...
Homework: Present Perfect Simple vs Continuous I have done vs I have been doing...
Homework: Quantifiers a few, a little, much, many, a lot of...
Homework: Relative Pronouns who, whom, which, that...
Homework: Confusing Words accept/except, bring/take, raise/rise...
Homework: Homophones bear/bare, fare/fair, desert/dessert...
Homework: Interjections hmm, shh, yuck, aah, wow...
Homework: Modal Verbs of Deduction can't be, must be, could have been...
Homework: CAN, COULD, BE ABLE TO I can run, I could run, I will be able to run...
See also: Talking Point Homework and Discussion
The Cult of Homework
Who Invented Homework?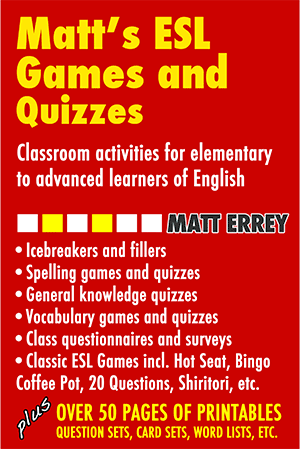 Make your own worksheets using the FREE EnglishClub.com Worksheet Maker !
Free Printable English Worksheets For ESL Teachers
Browse our archive of completely free quality English worksheets and lessons (PDF and Word documents). Download, customize and print the resources, incorporate them in your lessons or assign them as homework to your students.
Our Massive Library of Free ESL Worksheets by Category
If you are looking for ESL worksheets for different learning areas, select the matching category. You'll find assorted lists of worksheets and other materials there, for all levels from beginner to advanced, for all ages from kids to adults.
Reading Comprehension Worksheets
Writing Worksheets
Grammar Worksheets
Listening Comprehension Worksheets
Idioms Worksheets
Phrasal Verbs Worksheets
Noun Worksheets
Vocabulary & Conversation Worksheets
Lesson Plans (coming soon)
Below, you'll find all our worksheets sorted by student level.
ESL Worksheets for Adults and Teens (Intermediate to Advanced Students)
These are our available worksheets on different topics for higher-level students, like adults and teens. You can download, edit and print them all for free. When you open the worksheets, there is an option to download PDF and Word files.
Intermediate Level (B1-B2)
Esl writing worksheet: opinion essay about video games (intermediate), esl lesson plan: nature & environment (intermediate), esl listening comprehension worksheet: in the kitchen (intermediate), esl listening comprehension worksheet: travel and transportation (intermediate), esl lesson plan: summer activities (intermediate), esl reading comprehension worksheet: studies (intermediate), esl reading comprehension worksheet: global warming (intermediate), esl reading comprehension worksheet: at the workplace (intermediate), esl reading comprehension worksheet: job interview (intermediate), esl reading comprehension worksheet: holiday (intermediate), esl listening comprehension worksheet: school lunch (intermediate), intermediate-advanced level (b2-c1), dialogue/debate worksheet: fast fashion – the true cost of clothes (intermediate-advanced), esl listening comprehension worksheet: technology and relationships (intermediate-advanced), esl vocabulary & conversation worksheet: job interview (intermediate-advanced), esl grammar worksheet, future tenses: traveling (intermediate-advanced), esl writing practice worksheet: newspaper articles (intermediate-advanced), esl writing practice worksheet: creating concise sentences (intermediate-advanced), esl writing exercise: creating complex sentences: las vegas (intermediate-advanced), esl everyday idioms vocabulary exercises (intermediate-advanced), esl vocabulary worksheet: food idioms (intermediate-advanced), esl vocabulary worksheet: idioms & slang (intermediate-advanced), esl reading comprehension worksheet: raising children (intermediate-advanced), esl reading comprehension worksheet: dreams (intermediate-advanced), esl reading comprehension worksheet: giving advice (intermediate-advanced), esl grammar worksheet: phrasal verbs: office & business (intermediate-advanced), esl grammar worksheet: phrasal verbs: dating (intermediate-advanced), esl grammar worksheet: phrasal verbs: sports (intermediate-advanced), illustrated esl lesson packages for kids.
Exclusively available from JIMMYESL: The following bundles include illustrated vocabulary worksheets for various exercises, flashcards, and a certificate of achievement. They're great to help young learners memorize new vocabulary with fun!
School & Classroom Objects – ESL Vocabulary Worksheets & Flashcards
Shape Names – ESL Vocabulary Worksheets & Flashcards
Body Parts – ESL Vocabulary Worksheets & Flashcards
Esl worksheets for beginners and elementary.
These are the ESL worksheets for young students, and for beginner and elementary level students. Again, you can download all worksheets in PDF and Word format, edit and print them for your lessons. Have fun teaching!
Beginner and Elementary Level (A1-A2)
Esl reading comprehension worksheet: in the restaurant (beginner-elementary), esl reading comprehension worksheet: france (beginner-elementary), esl reading comprehension worksheet: zoo animals (beginner-elementary), esl reading comprehension worksheet: playing football (beginner-elementary), listening comprehension worksheet: the pet competition (elementary), esl vocabulary worksheet: sports activities, action words (elementary), esl reading comprehension worksheet: the world of dinosaurs (elementary), list: prepositions of place: at, in & on (elementary), elementary-intermediate level (a2-b1), esl vocabulary worksheet: weather report & forecast (elementary-intermediate), esl vocabulary worksheet: let's go shopping (elementary-intermediate), esl grammar worksheet: using articles (elementary-intermediate), esl grammar worksheet: -ed & -ing adjectives: describing feelings & situations (elementary-intermediate), esl vocabulary worksheet: describing people (elementary-intermediate), ideas to create your own esl lesson plans.
Check these ideas for engaging and fun ESL lesson activities which you can use to easily create customized worksheets. Or browse our full list of activity ideas to find tons of inspiration and materials.
15 Engaging Community Building Activities for the Classroom
ESL Icebreakers: 8 Games & Activities For Students of All Ages
Fun ESL Warm Up Activities & Games for Adults & Kids
12 Fun ESL Speaking Activities for Teens or Adults
17 Fun ESL Vocabulary Games for Adults and Kids
120 Would You Rather Questions to Start an ESL Conversation
How to Make a Lesson Plan for Teaching English (The Definitive Guide)
The Definitive Guide on Teaching English Pronunciation
12 great esl listening activities & games.
150 ESL Conversation Starters and Questions (The Essential List)
33 Sure-Fire Strategies & Activities for Teaching English Grammar
18 Tips on Giving Great English Conversation Lessons for Adults
Homework Checklist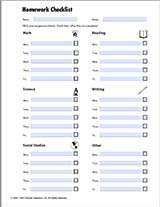 Featured Middle School Resources
Related Resources
EnglishForEveryone.org
Your resource for english worksheets terms of use.
Home | About | Privacy Policy | Terms of Use | Contact Us
10 entertaining homework ideas for online English Language Learners
Did hearing the words, "do your homework," when you were a child excite you?
For most of us, the word homework doesn't conjure up exciting or fun memories.
Homework was likely one of the last things you wanted to do as a student!
However, what if you could make homework fun for students? What if homework was entertaining?
In this article, we share some entertaining homework ideas for English language learners to help them improve their English while having fun!
You might be familiar with lots of ESL games and activities for your students , but assigning the right homework can feel overwhelming.
This is particularly true if you don't want to burden your students with a tremendous amount of information.
Have you ever thought about combining games with homework?
There are many alternative ways to create memorable lessons, such as incorporating karaoke songs to learn English.
Here are 10 fun and entertaining homework ideas for your ESL students:
Cafe hopper
Tiktok star
Let's go to the movies
Hello Mr. Teacher
Interview a stranger
Shine like a Karaoke star
Expert on the loose
24 hour challenge
It's a wrap!
Masterchef in the making
1. Cafe hopper
Most people love checking out cafes and this is an easy homework task to assign to your students.
Have your students visit a variety of cafes as part of their homework.
Then, consider what they could do for homework in a cafe of their choice.
Here are some fun ideas for turning cafe-hopping into homework:
Practice ordering in English off of the menu.
Take a photo of the cafe's and share the differences and similarities with you in class.
Speak to a stranger in each cafe in English and ask them some interesting questions about their life.
Interview the barista about their favorite kind of coffee or beverage.
This is a stress-free homework idea that your students will love, especially if they are coffee or tea lovers!
2. TikTok star
Tiktok is a fun social media application where you can watch videos and songs from creators. You can also watch creators lip-synching to catchy tunes.
Show some fun examples in your class of some famous TikTok songs being lip-synched to by others and practice doing one together.
For homework, have them choose their favorite song on TikTok.
They can lip-synch to the song and download the song to their camera album without having to actually post it to TikTok.
Have them share their creation with you in the next class!
Depending on the age and location of your student, TikTok might not be an option for them. If you are teaching older students or adults , then it might be easier for them to use social media for this homework assignment rather than young children.
If they are too young to use the app, have them find an online video of their favorite song and ask a parent to record them singing!
3. Let's go to the movies
Going to the movies doesn't sound like homework, does it? Well, as you might already be discovering, homework doesn't have to be conventional!
Find some interesting movies that are playing in your students' area or ask them to watch a movie of their choice in English.
Tell them that their homework is going to be based on the movie they watch.
Here are some ideas for making going to the movies part of their homework:
Have them write a summary of the movie or their favorite part.
Tell them that they have to give you a movie review in your next class.
Have them act out their favorite part of the movie with a sibling or family member and record it (in English of course!).
Ask them to make a poster advertising the movie with captions, titles and text to accompany any drawings.
If you are struggling to find movies they can go and watch in the cinema, you can always use these ESL movies and TV shows as a resource.
Students can also watch movies from the comforts of their homes.
4. Hello Mr. Teacher!
Students love playing the role of the teacher!
This can work for in-person or online ESL classes.
Tell them that as part of the next classroom activity, the first 5 – 10 minutes will be their time to shine as the teacher!
For homework, ask them to:
Think of one topic that they know a lot about (This could be a sport, musical instrument, game, topic, etc…).
Have them prepare 5 important things that someone needs to know about their topic.
Tell them that in their next class they will be the teacher and share their knowledge! (They can even give you homework!).
Have fun with this homework idea and role-play the student where you ask them questions after they finish.
Your students will love this one!
5. Interview a stranger
This one might need some parent support and guidance if you are teaching children, but having them interview someone is an entertaining homework idea for English language learners.
It encourages their own voice as they come up with ideas.
It helps with writing skills as they write out their questions.
Interviewing encourages conversation and role playing which is a fun way to learn English.
You could have your younger students interview a family member and ask questions related to that family member's childhood.
Here are some sample questions you could help your students form:
What kind of things did you like to do when you were my age?
What was your favorite thing about school?
What types of sports did you play when you were young?
Tell me about what life was like when you were a child.
Have them choose and write out 5-10 questions and come back to class to report on their findings!
6. Shine like a Karaoke star
Who doesn't like a bit of karaoke? Imagine….singing your heart out to "I love rock n roll" in the privacy of your own home!
You don't need to go to a karaoke place to actually sing karaoke songs. There are lots of great karaoke songs available online to learn English with your students.
YouTube is a great place to start, just by searching for your favorite song + "karaoke lyrics" in the search bar.
In class, help your student(s) choose a song and task them with finding the online karaoke lyrics to sing along.
Have them sing this for homework! You could even ask a parent to help them record it if they are comfortable with that.
Here are some fun and popular karaoke songs online to learn English:
"I Will Survive" with Gloria Gaynor
"Livin' on a Prayer" with Bon Jovi
"Summer Nights" with John Travolta and Olivia Newton John
"Don't Stop Believin'" with Journey
7. Expert on the loose
There is an expert in all of us, including your students!
In this fun and entertaining homework idea, have your student share their expertise on something!
To add a different dimension to the homework idea, "Hello Mr. Teacher," task your students to dress up as the expert and make a short speech on their topic of choice.
Here are some examples:
Harry Potter
Michael Jordan (to talk about basketball)
Favorite sports athlete
Insect scientist
Astronaut (if your student knows a lot about space)
Presidential candidate
Pilot (for students who know a lot about countries)
Even if they are not an expert on the topic, part of the homework assignment could be to do some research and learn more about their chosen field.
You could even ask them to dress up and come to class in the role, ready to share their knowledge with you!
8. 24 hour English challenge
This one is self-explanatory and incredibly fun!
Set a challenge for your student to only speak in English for 24 hours.
This means that you might need to get parents involved with the homework assignment, so that they can help out.
The idea is that they have to speak only in English (as much as is possible given their situation) when interacting with family, friends and at school.
Your students might already be immersed in English environments, but, oftentimes, they are speaking their native language at home with family and friends.
Having your students force themselves to only speak in English is challenging and a great way to encourage English outside the classroom.
9. It's a wrap!
Lots of students love to rap! Rap music is poetic and encourages a lot of ESL language skills that we want to build in our students.
This is an activity that you can model with your students in class and assign it for homework for them to create their own rap.
Again, they can come back to class and rap their new song to you! It might, however, work better with older students who have a good base level of English, to begin with.
Here are some fun homework assignments incorporating rap:
Create their own rap if they are the creative type
Find a well known rap online and practice it to present in class
Assign your students to find a rap online that they sing and record with their friends
10. Masterchef extraordinaire
For the food lovers, creating a homework assignment that includes cooking can be really fun.
Most kids love the idea of cooking, especially if it centers around cooking their favorite food!
When considering this as a homework idea, consider these possible assignments:
Create and write out a recipe for a unique culinary dish.
Make a video about the cooking experience.
Record a tutorial of how to cook something.
Turn it into a competition if you have multiple students.
Plus, this works with physical and online classrooms.
Of course, if you have a physical classroom with multiple students, this could be a really fun in-class experience with some homework assignments to accompany it.
Who doesn't love a food-related assignment?
If you choose Masterchef extraordinaire, allow your students to share the food they make with the class and encourage lots of conversations in English.
Homework doesn't have to be boring!
As you can see, homework doesn't have to be boring!
Most of your ESL students have a lot to do even outside class, and that's why assigning homework that doesn't feel like homework is ideal!
This is an opportunity to get creative, creating excitement for your students to learn English.
If you use some of the homework ideas mentioned here, make sure you document the experience and continue to discover new activities that bring laughter and joy to the classroom.
And when you are applying to online teaching jobs , be sure to share how you plan to creatively incorporate class assignments and homework for your students!
Enjoy the process and make learning an enjoyable experience for everyone.
Enjoyed this article? Don't forget to share.
Latest Posts
Recommended for you:
Homework To Do List
A spreadsheet can be a useful tool for tracking your homework assignments, due dates, and completion status. The homework list template on this page was designed based on my original To Do List Template for Excel. I simplified it a bit for and modified it specifically for tracking homework assignments. You can download the Excel file or the blank printable PDF version if all you need is a blank form to use for your student planner.
Homework To Do List Template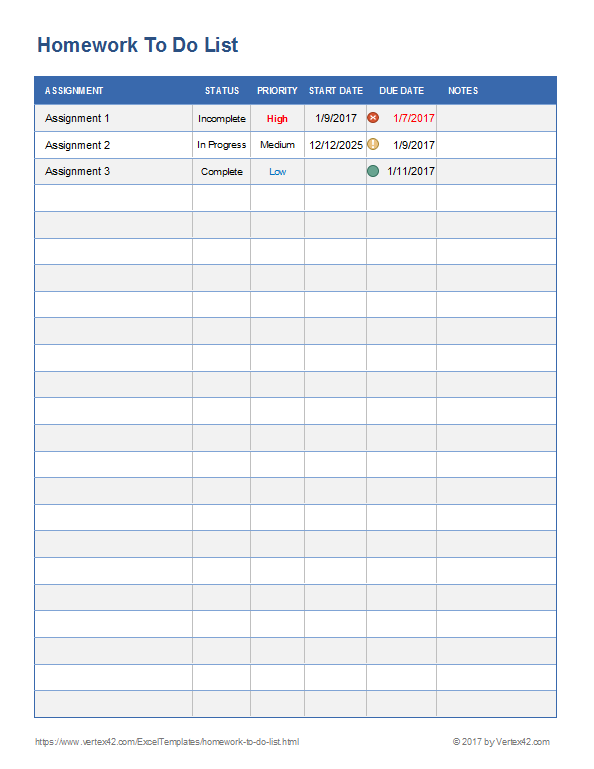 License : Private Use (not for distribution or resale)
"No installation, no macros - just a simple spreadsheet" - by Jon Wittwer
Description
Drop-Down Lists for Status and Priority - The Status column lets you choose from "Not Started", "Incomplete", "In Progress", and "Complete." The Priority columns lets you choose between "High", "Medium", or "Low." If you want to edit the items in the drop-down lists, just select the cells you want to edit and go to Data > Data Validation and edit the comma-delimited lists.
Conditional Formatting for Priority and Due Date - I've set up the Priority column to show "High" as a bold red font and "Low" as a blue font. The Due Date uses icon sets to show when the date is past due. If you need or want to edit these rules, go to Home > Conditional Formatting > Manage Rules and select "This Worksheet" from the drop-down to see all the rules for the worksheet.
A Worksheet for Each Class - You can duplicate the main worksheet tab to create a homework list for each of your classes. Just right-click on the worksheet tab and select "Move or Copy" and check the "Create a copy" box. Then you can rename the tabs "ENG 101", "MATH 101" etc.
Completed Assignments - When you select "Complete" from the Status column, the font in that row will change to a gray strikethrough . You can edit the conditional format rule to change that if you want.
Printable Homework List
Create a Drop Down List in Excel at vertex42.com - Explains how you can create a drop-down list like the one used in the Priority column.
Follow Us On ...
Related templates.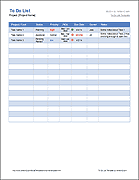 Education Templates
Train to Teach English: No.1 for TESOL Certification Online
Great homework ideas for ESL students
Discover great homework ideas for ESL students in your classes
While most people don't want to do extra outside of class, there is no denying that having some English input between lessons is a great way for our students to take ownership of their learning and see faster English improvement. 
So here are five great homework ideas for ESL students:
1. Truth or lie?
Students prepare three short stories about themselves for homework. One is true, the others are false. In the next lesson they tell their partner their stories while their partner asks questions to decide which story is true. Then reverse roles.
A game element is really motivating and this works with many different language levels.
2. Prepare for a quiz
Do you want them to remember new verbs, tense structures or vocabulary? Are you doing a general revision lesson next? Ask your students to revise at home, telling them you'll put them into teams next week to answer questions. Have each team make up a distinct buzzer sound if you like so they can 'buzz in' with the right answer. Winning team gets a prize.
Works best with teens and kids; a neat reason to revise at home and much more fun than an individual test.
3. Set up a FB group for the class
Ask a question a week, invite responses and encourage respectful conversation and debate. Be careful; not everyone likes social media and you may choose a more appropriate platform for sharing ideas outside of class.
Collaboration in English outside of class can be stimulating, build relationships and practice real-world English.
4. Riddles/puzzles/tongue twisters
A cowboy rode into town on Friday, stayed three days, and rode out again on Friday. How did he do that? (*answer at bottom of the page)
Lateral thinking questions like the above can be fun and all the while, students are reading English. Alternatively, have students practice tongue twisters at home and either translate one from their own language or make one up. Have them share with the class next time.
It is a lot of fun hearing tongue twisters translated from other languages.
5. Watch YouTube video stories and report back
There are plenty of great story videos ESL students can watch at home and which are graded for level.
In the example video at the bottom of this blog, you'll see a short past tense story, suitable for low level learners. After watching it for homework, here are two ways you can work on it in your next class: 1. Ask general comprehension questions on the video.   2. Re-create the story as a class, eliciting it from students piece by piece with the help of key words from the story as prompts on the board.
Alternatively divide the class into A and B.
For homework, A's watch one video and B's another. Pair an A and a B up in class afterwards to summarise the stories to each other.
Video is so engaging and it is much easier to get students to watch something than write something.
As teachers, we can help our students by giving homework tasks that are meaningful, relevant and engaging. Also students are more likely to do the work if it will be checked or used in some way in the following lesson. 
We hope we have inspired you to choose fun, task-based homework activities that have a solid focus and outcome. Notice, too, how there is always a meaningful follow-up to the homework task in class.
When planning homework tasks, you can also take your inspiration from the real-world and ask students to do things like text each other or listen to English music.
The possibilities for productive homework tasks are endless. 
*Answer to lateral thinking question: Friday is a horse .
The Global English  120 hour TESOL Premier course . contains great content on crafting lesson plans and a section on how to give homework effectively.
Check out our ready-to-print and use TEFL lessons   here.
Ask any questions about TESOL training and ESL classes directly  here  or join the chat in our friendly  Facebook group .
Author: William
Date: 06/11/2018
Return back to listings
Search Blog
Want the latest tefl jobs & information sign up to our e-newsletter now, country guides see where your tefl can take you - just type a country:.
View all countries
Which TEFL course is best for me? Read our handy guide now.
Employers - have you got a position to advertise on our website and through our fortnightly newsletter? Click here .
Employer enquiry form
We offer online and weekend TESOL courses from 20 hour to 350 hours. If you will accept our graduates from one of these courses to fill your vacancy, (you can decide which courses you will accept) we can display your job advert for free.
Please enter your details address below and we will email you a job vacancy form to complete:
"For the past two years I have worked here in Tuscany teaching all levels. I have already recommended your courses to one of my prospective teachers..."
— Alison Salmon, English World, Italy
Your first trial online English lesson – how to succeed
Teaching english with no degree, introducing the tesol re-equip course, which tesol is best for me, unlocking new horizons: how a tefl certificate can turn exam disappointments into global adventures.
Take Back Your Schools
Diong homework with music
Tips for high school students
Doing your college assignments
Spanish homework tips
Science homework in kindergarten
Human anatomy assignments
Spelling assignment tips for parents
Homework agenda: tips and tricks
Help with literature homework
Viking assignment tips
Electrical engineering assignments
Good math assignment tips
Doing your school assignments easily
Helpful assingnment tips
Tiredness and homework
Aboriginal art assignments
Searching for homework motivation
Doing 2nd grade geometry homework
Ideas for your vocabulary homework
Biochemical engineering assignments
5 things to know about tutoring services
5 secrets of getting help online
Hiring a reputable homework service
Places to find help with all subjects
5 ways to deal with homework anxiety
Getting homework help in college
Finding help in world history
Dealing with biophysics homework
5 reasons why homework is bad
Approaches to find geometry answers
Looking for online homework help
5 tips on how to succeed in physics
Dealing with homework on your own
Getting geometry answers online
Finding free answers for astrophysics
Where to look for sociology answers
Help with homework for university
4 things when looking for math help
College homework help with English
Finance homework answers
Unknown hints to do homework
Getting logic homework answers
Advantages of your homework
Macroeconomics homework assistance
Trigonometry assignment help
Engineering mathematics assistance
Paying for homework without risks
Trigonomerty&algebra homework help
Looking for excellent homework help
Geography assistance online
Business studies assistance
World history assignment help
Finding useful homework writing help
Social studies assistance for 5th grade
Searching for a homework agency
In search of a qualified homework writer
Dealing with Music assignments
4 ways to get answers for homework
How to hire a professional tutor
Easy ways to find help online
5 places to get assistance
Painless way to do homework
How to find good help with physics
5 methods to find homework helpers
How to do homework in college
How to fix homework problems fast
5 rules for homework in college
Looking for physics homework aid
Techniques to do tasks fast
5 tips to get help with world history
Getting science homework answers online
Finding help with math
5 tips for engineering
Best Ideas For English Homework: 15 Suggestions For Students
Each student who is assigned homework is in a situation to handle that responsibility and complete the homework until it is finished. This will often depend on differences in times and interest level, but, for the most part, the task is often completed without much of an issue in any case. In a lot of situations, homework is often assigned on a large scale to every student, and they are expected to make time for it. If the student is interested in the work they it will be completed, if the student doesn't want to or thinks that they can't do it, then there is a requirement to be self-motivated and get on with the work without holding back too much. These are two polarities that can be dealt with a few simple ways of increasing students will become a part of the work while being able to get back to what they really want to do.
English tasks Reference Pages
Making time
Proofreading
Editing and spelling checks
Applying software
Finding information on websites
Making time for some breaks
Finding a person who's read
Observing themselves completed
Making self-motivation for the work itself
Seeing what improves when the work is done
Removes the weight of expectation
Reading summaries
Finding boards
Applying software in English homework will often have some added benefits. This includes spell check, editing, and proofreading. Each of these things will have an added benefit for each task. The assignments being made will receive higher grades, and they will always appreciate not having to re-check the spelling and grammar. These tools can be found in various places online and various sites. These software have different grades of quality.
Reminding the student and them recognizing that the work should be completed or they'll get expelled will often lead to some thinking in terms of the student and whether or not they actually want to be involved in the education system at all. While this can be a difficult topic, being able to realize the benefits of having some education could enhance the motivation of the work being completed. It could also remove the burden of having to do the work and add some of the effects that could come of it, in case they aren't interested.
There are many ways to create topics and ease of tasks and manually creating a time for the work to be completed is what makes the largest difference. Imagining the work completed will always ensure a continuance of the work.
Writing Triggers
Help with research papers
Assignment writing help
Completing homework lacking will
Getting help with accounting
Practise your English grammar with clear grammar explanations and practice exercises to test your understanding. The learning materials are organised into two sections, organised by English level . 
All learners, whatever their level, have questions and doubts about grammar as they're learning English. There is also a grammar reference which helps to explain the verb tenses and grammar rules in a clear and simple way.
Decide which area of grammar you need help with today and choose a grammar point to work on. When you do the interactive exercises, you can see how well you've done. By revising and practising your grammar you will increase your confidence in English and improve your language level.
Practising little and often is the best way to improve your grammar, so come back tomorrow to choose another grammar point to work on. Good luck!
Choose a section
A1-A2 grammar
B1-B2 grammar
English grammar reference
Learn to use grammar correctly and confidently.
Our online English classes feature lots of useful learning materials and activities to help you improve your understanding of grammar in a safe and inclusive learning environment.
Practise using grammar with your classmates in live group classes, get grammatical support from a personal tutor in one-to-one lessons or practise grammar by yourself at your own pace with a self-study course.
Explore courses
If you're seeing this message, it means we're having trouble loading external resources on our website.
If you're behind a web filter, please make sure that the domains *.kastatic.org and *.kasandbox.org are unblocked.
To log in and use all the features of Khan Academy, please enable JavaScript in your browser.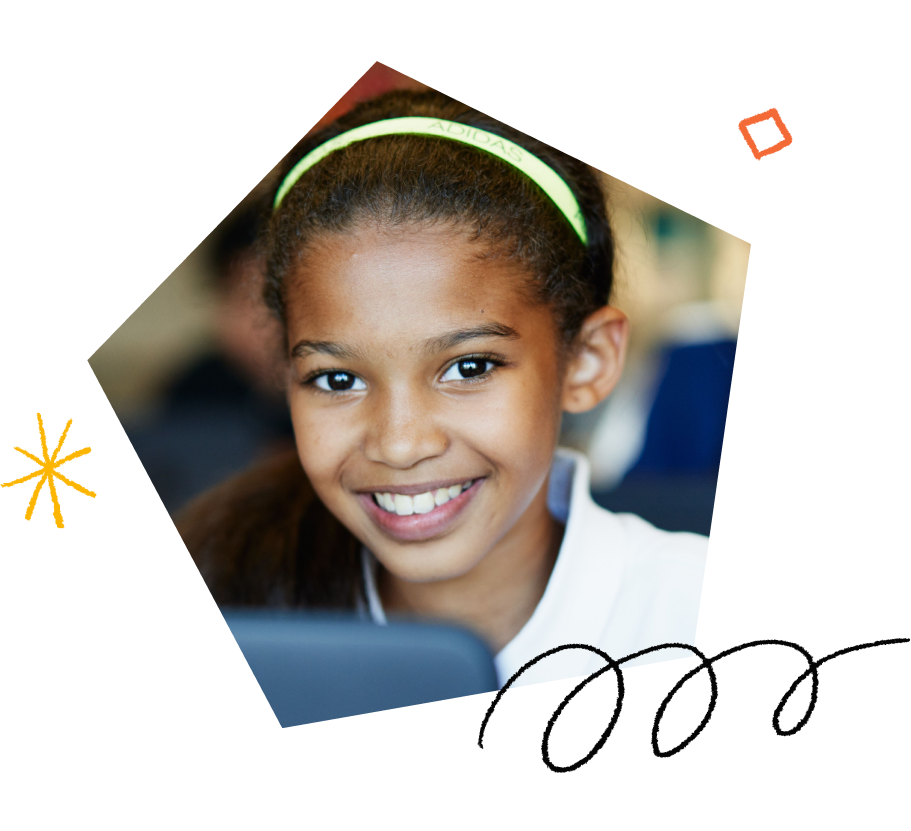 For every student, every classroom. Real results.
We're a nonprofit with the mission to provide a free, world-class education for anyone, anywhere.
Learners, teachers, and parents:
Why Khan Academy works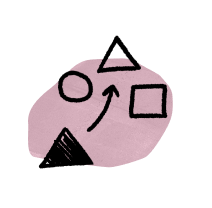 Personalized learning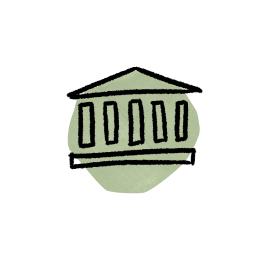 Trusted content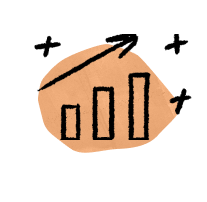 Tools to empower teachers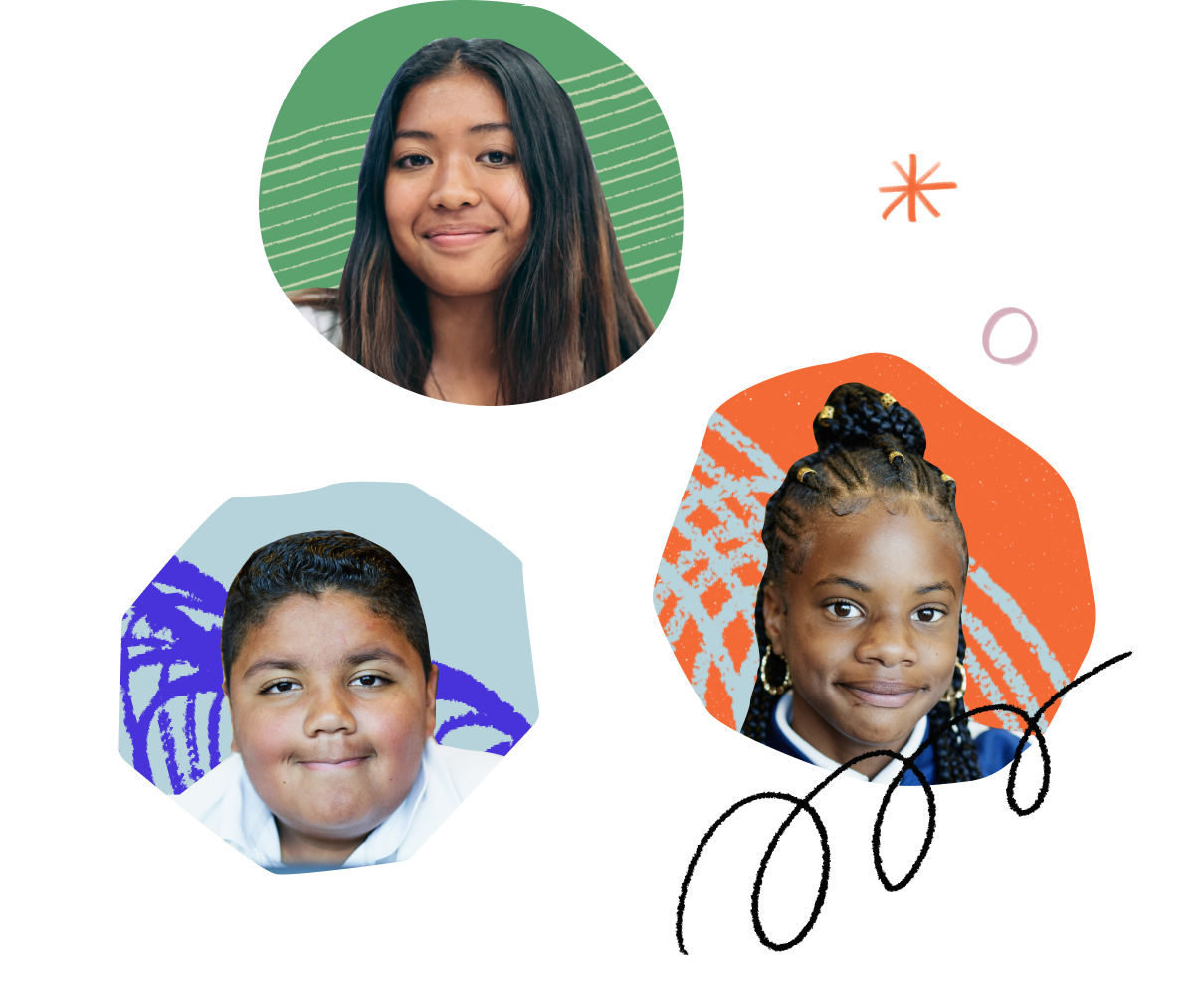 Differentiate your classroom and engage every student.
We empower teachers to support their entire classroom. 90% of US teachers who have used Khan Academy have found us effective.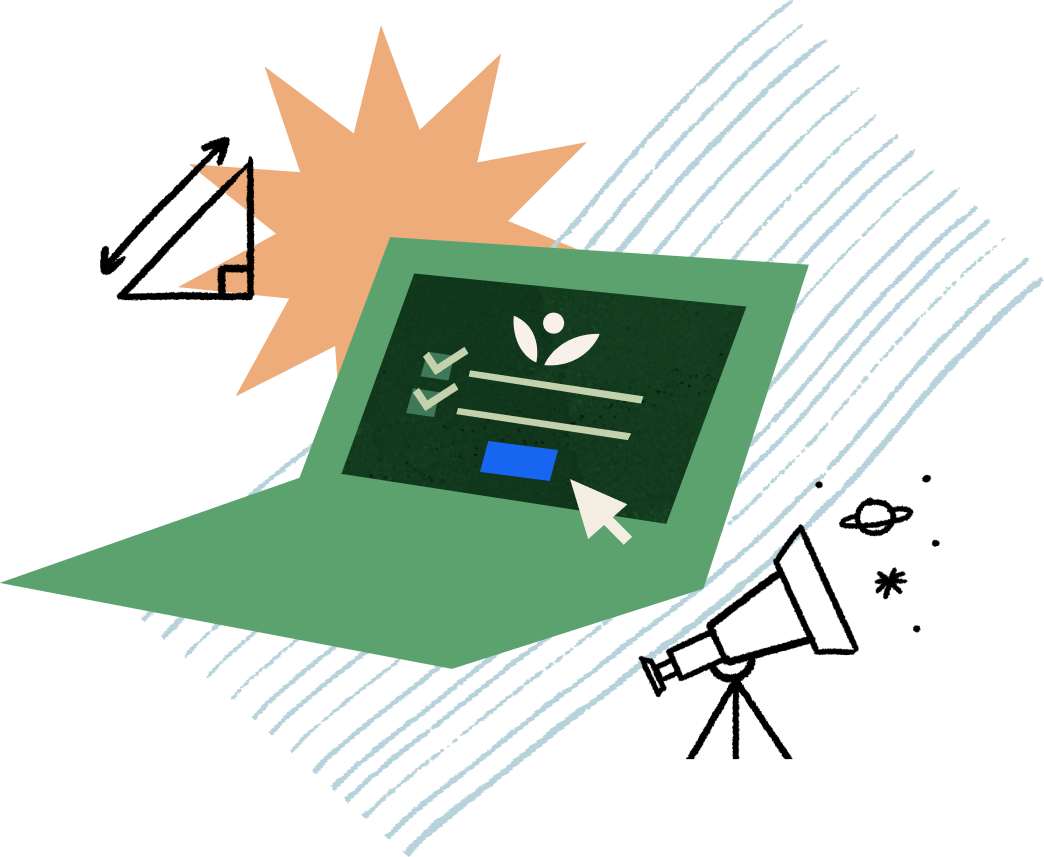 You can learn anything.
Build a deep, solid understanding in math, science, and more.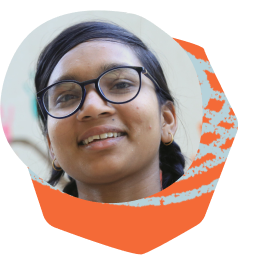 Every child deserves the chance to learn.
Across the globe, 617 million children are missing basic math and reading skills. We're a nonprofit delivering the education they need, and we need your help. You can change the course of a child's life.
Join Khan Academy today
Key supporters.

Supporters of our COVID-19 response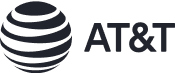 You are using an outdated browser. Please upgrade your browser or activate Google Chrome Frame to improve your experience.
13 Entertaining ESL Homework Ideas to Keep Your Students Engaged
Homework may not be many students' favorite thing, but research says it's truly an effective learning tool that teachers should use .
The trick is assigning great homework.
To help you do this with ease, we've compiled an awesome list of 13 homework assignments that will have your ESL students begging for more.
1. Read a Short Story
2. share a passion, 3. start a chat group, 4. listen to a podcast, 5. write a letter, 6. write an amazon review, 7. do a wikipedia edit, 8. write a short story or poem, 9. share their culture, 10. catch a movie, 11. meet new people, 12. analyze a song, 13. go on a photo scavenger hunt, what makes homework effective.
Download: This blog post is available as a convenient and portable PDF that you can take anywhere. Click here to get a copy. (Download)
Have students read a short story for homework and then ask them to tell the class about the story in the next session.
I would recommend giving students some suggestions on what short stories to read, depending on the level of your students.
Here are some suggestions of short story collections for each level of ESL learner:
"The Very First Americans" by Cara Ashrose: This collection of short stories features Native American culture and history, written in simple language.
"Oxford Bookworms Library: Starter Level" This series offers simplified versions of classic stories, such as fairy tales, adventure stories and more.
"Classic Tales for ESL Students" by L.A. Hill: This collection of classic stories from literature is retold with easier vocabulary and sentence structure.
Intermediate
"The Best American Short Stories" This series features contemporary short stories from a wide range of American writers, so there's something for everyone here.
"Short Stories in English for Intermediate Learners" by Olly Richards: This collection of engaging stories is designed specifically for intermediate ESL students.
"Roald Dahl: The Collected Short Stories" This delightful collection of quirky and imaginative tales has become a favorite of many of my students.
"Interpreter of Maladies" by Jhumpa Lahiri: This Pulitzer Prize-winning collection of short stories explores the immigrant experience, something which many ESL students can relate to.
"Dubliners" by James Joyce: This classic collection of interconnected stories captures the essence of Dublin in 1914. But it still feels modern to many students.
"Nine Stories" by J.D. Salinger: This classic collection of short stories is a class favorite when I've used it.
What do your students really care about? Give them a chance to talk about it in front of the class. 
Have each person choose something they're passionate about, something they might consider themselves an expert on.
Challenge students to think of a creative way to present five must-know facts about that subject. They might make a movie, create a poster or brochure, write a song or even put on a skit.
Have each person present their creative project to the class, and then give the class five minutes to ask questions of the presenter.
Set certain parameters like students must speak in complete sentences or require that every student ask at least two questions at some point during the presentations.
Students will love sharing about their passions, and they'll get some great speaking, listening and discourse information in the process, as well as teach the rest of the class some interesting vocabulary.
Ask for class for a volunteer to start a class WhatsApp chat group. They can also decide to use another messaging app like Telegram, Viber, Voxer or any other app that has a group chat function. 
Encourage them to send at least one message and to respond to a couple others for their homework. 
This text group has the added advantage of students being able to make friends with one another, and a place to ask about missed homework assignments on days when they can't make it to class.
Note that if a student doesn't want to be included in the chat group, you should have a back up assignment prepared for them.
Listening is one of the ESL student's most difficult skills to acquire, so listening to a short podcast episode is ideal homework.
You can ask students to write a little about the podcast to turn in to you, or you can ask them to briefly summarize what they heard for the class in the next session.
Here are some suggestions for well done podcasts:
The English We Speak : Produced by the BBC, this podcast focuses on teaching commonly used phrases and idioms in conversational English.
The Moth : A storytelling podcast where real people share their personal experiences and anecdotes in English.
Stuff You Should Know : Though not specifically designed for ESL students, this podcast covers a vast array of interesting topics, providing exposure to diverse vocabulary and subject matters.
Ask your students to write a letter . The letter can be written to a friend or family member (which they could then actually mail or email), or it could be a fan letter to a favorite musician or actor. They could even write a letter to Santa Claus or a historical figure. 
For example, a student might choose to write a letter to Marie Antoinette, asking her what it was like to be the queen of France at such a young age. 
You can also choose to have students write letters to one another. Then the next homework can be writing that letter writer back.
Ask you students to review a product on Amazon (or any other shopping website that has reviews). Ask them to select a product they have really used, so they have a genuine opinion on the quality of the product and whether it lived up to their expectations.
Then, in the next session, show the reviews on the overhead projector to the class and ask a student to read the review.
You can then go over any errors in vocabulary, grammar or sentence structure and revise the review together as a class.
Since anyone can edit a Wikipedia article, it's a great place for ESL students to hone their writing and editing skills, and they'll have a built-in readership, too!
Ask students to select a person that they know a lot about—a well-known figure from history, pop culture, music or film would all work. Then ask them to read the Wikipedia entry to see if they can add anything else to the article.
Perhaps the article on Ryan Gosling is missing a key detail about his recent Ken performance. If so, the student will revise and edit the article. They should take notes on what they changed, so they can explain it to you or the class the next day.
Ask your students to get creative. Have them write a short story or a poem . This can get them to use descriptive language that they don't always have a chance to use.
One good activity to do before you assign this homework is an adjective bubble chart. For this, you start with one adjective. For example, write "moist" on the board, circle it and then draw 4-5 lines coming off of the"moist" bubble.
Ask your students to come up with other adjectives that are related to "moist" and so on. They may come up with "wet," "watery," "soaked" or "damp." Then draw lines from each of those. This can lead to words that you never expected to come up.
Have your students select 3-4 adjectives from this introduction activity that they'll use in their story or poem.
Ask your students to prepare a short presentation on an aspect of their home culture to tell the class about in the next session. 
For example, a student from China may explain the Lunar New Year, a student from Vietnam may explain Tet or a student from El Salvador may tell the class about their quinceañera .
They can use photos, art, a PowerPoint presentation or they can just explain in their own words.
Then open the class up for questions.
Can you legitimately send students to the movies for homework? You can when you're teaching ESL.
Your students don't have to commit to a full-length movie. Instead, you can use the videos on FluentU to screen mini-lessons using clips from TV shows and movies, movie trailers, news segments, vlogs or music videos.
Use these videos in the classroom or assign homework to watch a few and complete the subsequent quizzes. You can also ask students to complete flashcard quizzes based on vocabulary words you want them to pay special attention to. These quizzes are adaptable so every student will have a unique experience catered to his learning level.
There are plenty of ways to use a movie for language development. And whether students watch a new release or catch an old Elvis flick on TV, they can do any of the following activities as homework:
Summarize the plot.
Describe a main character.
Note new or interesting vocabulary (particularly slang) they hear while watching.
Write an interview with one of the characters in the movie.
I'm sure you also have your favorite movie-related language activities and many work as homework assignments. So get creative with how you have students share about what they watched.
For the most part, people are willing to help someone in need, and that is doubly true for someone who needs to complete an assignment for school.
That's why sending students out to interview native speakers on campus is such a fun homework assignment.
Start by helping your students write a list of questions they'll use for their interviews. Students can choose a topic or you can assign one, like leisure activities or celebrity news.
Tell students to list five to ten questions they might ask on that topic that will elicit specific answers. 
As a class, discuss how students might introduce themselves to a potential interviewee. 
Then send students out to their interviews after class. They can share the answers they got in the next session.
Music is great for English learners since it stresses many aspects of language that can otherwise be hard to isolate, like the emotion of language, intonation and stress.
Have students choose their favorite English language song to listen to for homework and then ask them to do the following:
Practice the lyrics to learn intonation and rhythm.
Note slang and cultural references in the songs.
Summarize the theme of the song, or just what it's about.
Have students share their favorite lyrics and what a particular song means to them.
Give individual students or groups of up to three students a list of items to find on their homework scavenger hunt. But instead of being specific in your list (for example, including items such as cat), be descriptive in your list.
You might include items such as something frightening, something beautiful, something quiet, something cool.
Students find items they think fit the description. For example, someone who is claustrophobic might choose an elevator for something frightening. They then take a picture of it.
The next day, have each person get with a partner and show them the pictures they took for each item on the list.
If the connection is not obvious, students should ask their partner to explain why they chose a particular item, such as the elevator.
Assigning homework that works isn't as hard as you might think, especially if you focus on the following points.
Put your homework in writing. It can be tempting to just announce homework assignments to students at the end of class, but language learners benefit when you reinforce what you say with what they can see. So take a minute to write any homework assignment on the board so students can read it as well as listen to it.
Let students know what goals you have for a particular assignment. Is it practicing a certain grammar point ? Improving their listening skills ? Pronunciation practice ? When students know why they're doing something, they'll be able to tell on their own when they've successfully completed their homework assignment.
Keep your homework practical . Your students may not find themselves planning out a menu for Thanksgiving when they leave your ESL classroom, but odds are they'll have to order food at a restaurant at some point. Think about realistic ways students will have to use English in the real world and try to make your homework practical.
Let your students be creative . Give your students choices on how they express themselves or present information. It's okay for students to make a home movie, put on a one-man play or paint a picture to present to the class. Just because you prefer a particular type of creative expression doesn't mean your students do, so give them choices and let them express themselves.
Make homework fun! Every class has its own personality, so what's fun for one might not be fun for another. Tailor your assignments to the personality of your class. Think about what they would think is fun, and go with that.
No matter what you believed in your student days, homework doesn't have to be boring. With a little creativity when assigning homework, you might find that the activities you assign for outside of class become the highlights of your students' days.
Enter your e-mail address to get your free PDF!
We hate SPAM and promise to keep your email address safe
Clue: English homework list, for short
Referring crossword puzzle answers, likely related crossword puzzle clues.
SAT section
Words, informally
Dict. material
English homework list
Shorter word list?
Word knowledge, briefly
English test subj.
Words to learn, briefly
Some English homework, casually
List studied for the SATs
Recent usage in crossword puzzles:
WSJ Daily - March 10, 2018
Joseph - June 13, 2017
Wall Street Journal Friday - July 5, 2013
Wall Street Journal Friday - Sept. 11, 2009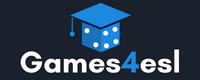 ESL Worksheets | Free Worksheets For Teaching English
Welcome to our ESL worksheets page. On this page, you can find many printable ESL worksheets on many topics for English language learners and teachers. All the worksheets on Games4esl are absolutely FREE to download and use in your English classes.
ESL Worksheets For Teaching English
The ESL worksheets on this page are arranged by topic. Choose a topic below or use the search bar below to find worksheets for your lesson.
Action Verb Worksheets
Adjective Worksheets
All About Me Worksheets
Alphabet Letter Worksheets: Letter A , Letter B , Letter C , Letter D , Letter E , Letter F , Letter G , Letter H , Letter I , Letter J , Letter K , Letter L ,
Alphabet Tracing Worksheets
Animal Worksheets
Animals And Habitats Worksheets
Big and Small Worksheets
Body Parts Worksheets
Christmas Worksheets
Classroom Object Worksheets
Clothes Worksheets
Colors Worksheets
Contraction Worksheets
Counting And Number Worksheets
Countries and Nationalities Worksheets
Comparative Adjectives Worksheets
CVC Words – Phonics Worksheets
CVCE – Magic E Worksheets
Daily Routine Worksheets
Days Of The Week Worksheets
Debate Plan Worksheet
Digraph Worksheets
Directions Worksheets
Easter Worksheets
English Grammar Worksheets
Fall Worksheets
Family Worksheets
Farm Animal Worksheets
Feelings Worksheets
'Find Someone Who' Worksheets
Food Worksheets
Future Tense Using Will
Halloween Worksheets
Hobbies Worksheets
Hundreds Chart
Jobs and Occupations Worksheets
Mad Lib Worksheets
Middle School Reading Comprehension Worksheets
Months Of The Year Worksheets
Numbers As Words Worksheets
Number Tracing Worksheets
Past Continuous Worksheets
Past Simple Tense Worksheets
Pet Animal Worksheets
Places In Town Worksheets
Prepositions Of Place Worksheets
Prepositions Of Time Worksheets
Present Continuous Tense Worksheets
Present Perfect Tense Worksheets
Present Simple Tense Worksheets
Pronoun Worksheets
Reading Comprehension Worksheets
Rooms Of The House Worksheets
School Subject Worksheets
Seasons Worksheets
Senses – Five Senses Worksheets
Shapes – 2D Shapes Worksheets
Sports Worksheets
Summer Clothes Worksheets
Summer Worksheets
Telling The Time Worksheets
This That These Those Worksheets
Transportation Worksheets
Verb To Be Worksheets
Weather Worksheets
Wh Questions Worksheets
Winter Clothes Worksheets
More ESL Resources
Before you go, don't forget to check out our other free ESL materials, including  ESL Games ,  Board Games ,  Flashcards ,  PowerPoint Games , Online Quizzes , and  ESL Lesson Plans .
Do you like learning about new things in English? We have lots of activity sheets about many different topics. Download and print the worksheets to do puzzles, quizzes and lots of other fun activities in English.
Acrostic poems
Chinese zodiac
Christmas food in the UK
Digital citizenship
Doing chores
Elderly people
Fairy tales
Flag design
Free-time activities
Helping the environment
Looking after pets
Musical instruments
New Year's Eve
New Year's resolutions
Olympic and Paralympic games
Pencil case
T-shirt design
Typical dish
English courses for children aged 6-17
Sign up to our newsletter for free learning tips and resources
We will process your data to send you our newsletter and updates based on your consent. You can unsubscribe at any time by clicking the "unsubscribe" link at the bottom of every email. Read our privacy policy for more information. Crossword Clues
English homework list
English homework list (Crossword clue)
We found one answer for "english homework list" ..
If you haven't solved the crossword clue English homework list yet try to search our Crossword Dictionary by entering the letters you already know! (Enter a dot for each missing letters, e.g. "P.ZZ.." will find "PUZZLE".)
Long, dramatic tale (1)
Availability (5)
Distressed ones (1)
Bullitt star (1)
Skeptic`s scoff (1)
Remain deadpan (1)
Con man`s ploy (1)
Concert hall (4)
Any takers (1)
Sonorously (1)
Saucy minx (1)
Train pullers (1)
Samaritan`s assurance (1)
Marshy tributary (1)
Kindergarten
Arts & Music
English Language Arts
World Language
Social Studies - History
Special Education
Holidays / Seasonal
Independent Work Packet
Easel by TPT
Google Apps
Interactive resources you can assign in your digital classroom from TPT.
Easel Activities
Easel Assessments
english homework
All Formats
Resource types, all resource types, results for english homework.
Price (Ascending)
Price (Descending)
Most Recent
Kindergarten Homework BUNDLED - Aligned to CC ( English Only) | Distance Learning
Editable Kindergarten Homework Calendars for the Year ( English and Spanish)
Kindergarten Homework BUNDLED - Aligned to CC ( English and Spanish Directions)
ENGLISH BELL RINGERS OR HOMEWORK : FULL YEAR
First Grade Homework Year Long BUNDLE - English and Spanish Directions
Kindergarten Homework - August ( English Only) Aligned to CC
Kindergarten Homework - October ( English Only) Aligned to CC
Kindergarten Homework Packet - BUNDLE! - English and Spanish - Aligned to CC
Kindergarten Homework - January ( English Only)
Kindergarten Homework - September ( English Only) Aligned to CC
Kindergarten Homework - April ( English Only) Aligned to CC
Kindergarten Homework - February ( English Only) Aligned to CC
Kindergarten Homework - March ( English Only) Aligned to CC
Reading Homework -Bilingual- English /Spanish- K-3rd -Reading Logs&Response Sheets
Kindergarten Homework - May ( English Only) Aligned to CC
1st Grade Math Homework - ENGLISH & SPANISH Whole Year Bundle w/ Digital Option
Kindergarten Homework - November ( English Only) Aligned to CC
Kindergarten Homework - December ( English Only) Aligned to CC
Kindergarten Homework - September ( English & Spanish Directions) Aligned to CC
Number Recognition Fluency Homework English and Spanish
Homework for Families! 1st Grade Homework Includes English & Spanish Versions
Third Grade Math Morning Work/ Homework for the Entire Year in English & Spanish
DIGITAL ENGLISH BELL RINGERS OR HOMEWORK FOR GOOGLE SLIDES
Kindergarten Homework - January ( English & Spanish Directions) Aligned to CC
We're Hiring
Help & FAQ
Privacy Policy
Student Privacy
Terms of Service
Reading & Math for K-5
Kindergarten
Learning numbers
Comparing numbers
Place Value
Roman numerals
Subtraction
Multiplication
Order of operations
Drills & practice
Measurement
Factoring & prime factors
Proportions
Shape & geometry
Data & graphing
Word problems
Children's stories
Leveled Stories
Context clues
Cause & effect
Compare & contrast
Fact vs. fiction
Fact vs. opinion
Main idea & details
Story elements
Conclusions & inferences
Sounds & phonics
Words & vocabulary
Reading comprehension
Early writing
Numbers & counting
Simple math
Social skills
Other activities
Dolch sight words
Fry sight words
Multiple meaning words
Prefixes & suffixes
Vocabulary cards
Other parts of speech
Punctuation
Capitalization
Cursive alphabet
Cursive letters
Cursive letter joins
Cursive words
Cursive sentences
Cursive passages
Grammar & Writing
Breadcrumbs
Download & Print Only $5.29
Grade 1 Grammar & Writing Worksheets
Let's write sentences and more.
These grammar and writing worksheets introduce students to the parts of speech , punctuation, capitalization and related concepts. Practice writing letters, words, sentences and paragraphs.
Other parts of speech  
Writing letters and words
Writing paragraphs
Writing prompts
Grade 1 Grammar & Writing Worksheet
What is K5?
K5 Learning offers free worksheets , flashcards  and inexpensive  workbooks  for kids in kindergarten to grade 5. Become a member  to access additional content and skip ads.
Our members helped us give away millions of worksheets last year.
We provide free educational materials to parents and teachers in over 100 countries. If you can, please consider purchasing a membership ($24/year) to support our efforts.
Members skip ads and access exclusive features.
Learn about member benefits
This content is available to members only.
Join K5 to save time, skip ads and access more content. Learn More