QuestionsAnswered.net
What's Your Question?
What Is a Case Study?
When you're performing research as part of your job or for a school assignment, you'll probably come across case studies that help you to learn more about the topic at hand. But what is a case study and why are they helpful? Read on to learn all about case studies.
Deep Dive into a Topic
At face value, a case study is a deep dive into a topic. Case studies can be found in many fields, particularly across the social sciences and medicine. When you conduct a case study, you create a body of research based on an inquiry and related data from analysis of a group, individual or controlled research environment.
As a researcher, you can benefit from the analysis of case studies similar to inquiries you're currently studying. Researchers often rely on case studies to answer questions that basic information and standard diagnostics cannot address.
Study a Pattern
One of the main objectives of a case study is to find a pattern that answers whatever the initial inquiry seeks to find. This might be a question about why college students are prone to certain eating habits or what mental health problems afflict house fire survivors. The researcher then collects data, either through observation or data research, and starts connecting the dots to find underlying behaviors or impacts of the sample group's behavior.
Gather Evidence
During the study period, the researcher gathers evidence to back the observed patterns and future claims that'll be derived from the data. Since case studies are usually presented in the professional environment, it's not enough to simply have a theory and observational notes to back up a claim. Instead, the researcher must provide evidence to support the body of study and the resulting conclusions.
Present Findings
As the study progresses, the researcher develops a solid case to present to peers or a governing body. Case study presentation is important because it legitimizes the body of research and opens the findings to a broader analysis that may end up drawing a conclusion that's more true to the data than what one or two researchers might establish. The presentation might be formal or casual, depending on the case study itself.
Draw Conclusions
Once the body of research is established, it's time to draw conclusions from the case study. As with all social sciences studies, conclusions from one researcher shouldn't necessarily be taken as gospel, but they're helpful for advancing the body of knowledge in a given field. For that purpose, they're an invaluable way of gathering new material and presenting ideas that others in the field can learn from and expand upon.
MORE FROM QUESTIONSANSWERED.NET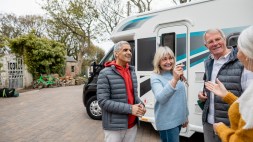 Skip to primary navigation
Skip to main content
Skip to primary sidebar
Teaching Expertise
Classroom Ideas
Teacher's Life
Deals & Shopping
Privacy Policy
20 Independent Reading Activities for Middle School
June 23, 2022 // by Jill Webb
Middle grade English students can struggle to focus during independent reading time. They need structure to not only continue reading their book but also to improve their reading comprehension and other skills.
Different activities and reading strategies can help keep them engaged and also give you a better understanding of their reading needs.
1. Think Marks
Having a student annotation guide is a great way to keep students actively reading. They work well with a chapter book - or a reading passage - and are a simple way to help middle school students better understand what they read.
Learn More: Writing Mindset
2. Conferences
Short one-on-one independent reading book conferences are an activity that will help both struggling readers and higher-level students. Having a healthy discussion around what students are reading gets them excited and also holds them accountable.
Learn More: Jennifer Findley
3. Stop and Jot
If you need a fun way to get students to answer reading questions, try a stop and jot with colorful sticky notes! They cover different topics such as characters, summarizing, and making connections.
Learn More: Pinterest
4. Coffee Shop Book Club
Making space for students to feel excited and comfortable is important! Create a "Starbooks" club where students can spend time snacking (as if at a coffee house) and getting to know books they are interested in (like a classroom party, but for books!)
Learn More: The Hungry Teacher Blog
5. Comprehension Skills Bookmarks
Comprehension questions and thinking stem bookmarks are good for keeping middle school students on track. They can use the book analysis questions on the bookmark as a reminder to stop and think about what they are reading. It also covers a variety of topics so you can focus on specific skills!
Learn More: Teachers Pay Teachers
6. Art Book Cover Project
Give students time to express what they have read in a creative way in the English language arts classroom with an independent reading project. Have them create a new book cover for what they read - they should use important quotes and images that relate to the text.
Learn More: FC Fox
7. Somebody Wanted But So
This activity is great at any grade level and especially for students who have a difficult time explaining what they have read. The SWBS assignment for students is color-coded with highlighters so they have a visual of the four pieces.
8. Exit Slips for Independent Reading
These exit slips are general discussion prompts on different genres! It will keep students thinking about what they are reading whether it is fiction, non-fiction, informational, etc.
Learn More: Wild About Fifth Grade
9. Book Connection Chain
A fresh idea is to assign a book connection chain project. This activity extends over a longer amount of time, as it uses the independent books students have read in a quarter, term, or year. They will make connections between all of the books and explain how they are related.
Learn More: Angela Collis
10. Book Interview
A reluctant reader will be more motivated if they know someone is holding them accountable. In book interviews, the teacher has discussions with students or "book talks" where they ask a series of general questions. It also helps the teacher collect reading data.
Learn More: Teacher Thrive
11. Reading Response Journal
Need writing activities for students that are related to writing? Use these menus, created for both fiction and non-fiction texts, to allow students a choice for their writing prompts . They will choose which prompt and write it in their journal.
Learn More: Creatively Comprehensive
12.  Accountability Tool
The idea for this activity stems from Nancie Atwell, "In the Middle". Rather than doing reading logs , students will give their "status", meaning each day they tell the class a little about what they are reading.
Learn More: Tarheel State Teacher
13. Book Spine Art
This bulletin board idea is a fun activity to do when your readers finish a book! They can create a book spine for the text they read and add it to the board!
14. Bookmark and Notes Tracker
Working on reading skills should also happen during independent reading time, but it can be hard to keep track of all your students. An easy tool to add to your independent reading program is this notes tracker. Each day students will add notes from the book to their bookmark, when finished they put the sticky on their notes sheet.
Learn More: Raise The Bar Reading
15. Text Connections
No matter what the independent reading level, all students should be able to share in making connections. This simple activity has students add links to a change when they make one of the three connections. Extend the activity by having them write what their connections were on the link.
Learn More: The Art Of Learning
16. Reading Raffle
Help motivate students to reach their reading goals and add a layer of accountability. Students get a raffle ticket each time they reach a benchmark. For example, finishing a book or passing a reading quiz.
Learn More: Hanging With Mrs. Hulsey
17. Creative Reading
These are different task cards with fun prompts based on specific topics like theme, setting, conflict, etc. Students can pick whichever they would like to answer while doing their reading. Keep a set in your classroom libraries for an easy go-to activity.
Learn More: Teach Nouvelle
18. Reading Sprints
Need a lesson plan to build stamina and fluency? Reading sprints are a burst of time where students try and read as many pages as they can, BUT they must read at a pace where they can still comprehend the text. It motivates students through a bit of fun competition!
Learn More: Reading And Writing Haven
19. Book Pass
A fun way to find a favorite book is by doing a "book pass". The video shows you how to implement this mini-lesson into your class. The gist is that you pick a selection of a book students will enjoy. Then you have them read just a few pages and write a review to see what interests them.
Learn More: Colby Sharp
20. Currently Reading
A nice way to have informal book talks is by using this activity. On laminated cards, students will update daily what they are reading. If a student feels like they are confused or want to discuss something with the teacher, they place their card in the "Let's talk about it" section.
Learn More: Teaching In Room 6

15 Fun Ways to Freshen Up Your Independent Reading Activities
Alternatives to the reading log.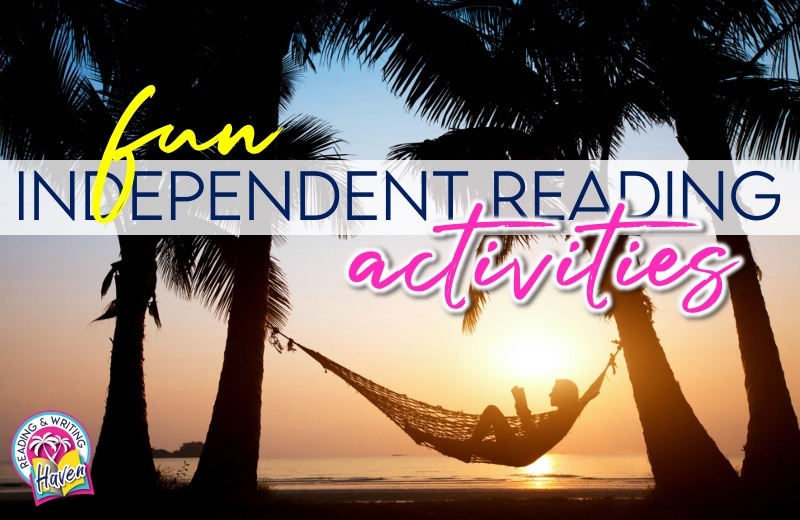 Inside: Is your choice reading program feeling stale? Are the independent reading activities falling flat? We can engage students and keep book love fresh by weaving in new ideas from time to time!   
Independent reading programs can be the life of your English Language Arts classroom party. Books truly can be magical for students and teachers to share together and to read independently. When inspiring stories are ubiquitous in our classrooms, vibrant discussions help to strengthen the overall community and culture.
Whether you're just dipping your toes into independent reading or looking for ways to freshen up your existing approach, you'll find lots of ideas here! If you've been around my blog or my Instagram account for long, you probably already know my strong distaste for reading logs and accelerated reader. Compliance-driven accountability tools create a negative space between students, books, and teachers.
In this post, you won't find unnecessary strategies that frustrate or bore readers. Instead, you'll find over a dozen fresh ideas for bringing healthy discussion and community to your independent reading program.
Previously, I've written about assignments we can use to assess students' progress with reading literature standards when it comes to their independent reading books. But, beyond standards assessment, I find little to no value in layers of accountability that feel like work just so we can "make sure" students are reading.
If we establish a positive reading culture , students will read. Let's check out the activities. Keep in mind, you won't find predictable, structured bell-ringer type approaches here. I like to keep it fresh because that's my style. Also, variety drives away boredom and unleashes creativity.
For the purpose of clarification, independent reading refers to when students are reading a book of their own choosing . They may be using an audiobook or even sharing the book with parents, but students are reading the book either in class or at home because it's a book they have chosen to read. Typically, this work is a meaningful extension of additional required classroom texts.
1:  ENTRANCE QUESTIONS
Entrance questions can be a fun way to open up thinking. We can pose these questions when students walk into class or after independent reading time. The purpose of an entrance question is to get students talking about their books, which contributes to a social reading environment. Indirectly, students will be getting ideas of books they may want to read in the future, and those who are answering the questions will be reflecting on what they are currently reading.
Consider these possible examples:
Find the most important word from the last 2 pages you read. Why is it important to the story?
What is the setting of your book? Does the protagonist enjoy living in this setting? How do you know? How does the setting cause limitations or provide freedom for the characters?
Entrance questions provide a thin layer of accountability. Students who are not reading their books will have a difficult time coming up with authentic answers to the prompts.
You can find more entrance prompts like this here .
2:  SKILL APPLICATION
One of the best ways we can bridge the gap between whole class texts and independent reading activities is to ask students to apply the skills we are teaching in a whole-group setting to their choice reading books.
For example, if you teach students a five sentence summary strategy using a short whole-class text, ask them to apply their summarizing skills to their independent reading book. Analyzing figurative language as a class? Why not extend that practice to independent reading? Making inferences about characters? Same thing.
I like to use scaffolding tools like graphic organizers and bookmarks to make a seamless connection between whole-class texts and independent reading books. I recommend modeling with the same tools students will be using on their own.
Reluctant readers will be more likely to invest in their independent reading books if they feel the books are an important part of their learning process.
3:  READING CONFERENCES
Reading conferences are opportunities to get to know readers. During a true reading conference, the teacher sits with each student to have quick conversations about how students are approaching their independent reading books. We can ask students summary questions, inference questions, analysis questions, and more.
Reading conferences are another opportunity to bridge the lessons and skills we are working on as a whole class with the books students are reading on their own. Many secondary teachers stray away from reading conferences because we have so many students and a short amount of time to meet with them.
I've used five-minute reading conferences during independent reading time. This means I am able to conference with two students each day, and it takes me two to three weeks to make it through the whole student roster. That's okay! Meeting with students one-on-one allows us to differentiate the reading skills and strategies we want them to work on, and it helps to build relationships with them.
Plus, if we can tell they aren't really engaging with their book, we can use this time to help them find a book they will enjoy more.
If you aren't ready to embrace the one-on-one reading conferences approach, give small group conferences a try! Meet with three to four students at a time to discuss a reading strategy (predicting, inferring, visualizing). We can talk about how dialogue impacts pace or how the author uses figurative language to engage readers.
4: BOOK CHECK-INS
In Reading in the Wild, Donalyn Miller recommends a status of the class, which is where we touch base with each student to inquire about their reading progress. When I say your name, share out what page you're on and something interesting about your reading! We can do this while conferring one-on-one, when taking attendance, as we circulate the room during independent reading, or in small group format when sharing about our reading.
However, Pernille Ripp recommends a second option for reading checks, which is asking students to sign in at the beginning of each class by updating the current page number of their independent reading book. We can streamline this process with a digital or print whole class book check-in sheet that can later be analyzed for trends (pictured below).
At the end of a week or month, we can ask students to total the number of pages they have read and submit that number via a Google Form. This is data we can use to reflect on as a class.
5: CASUAL BOOK TALKS
What are people typically really excited to do after reading something super good? Tell others, of course! That's why informal book talks are an engaging way to open up authentic social reading situations.
After independent reading time, ask for volunteers to share something exciting, moving, or humorous from what they've read, a favorite line or passage, or an impressive example of author's style. I consider these informal book talks, but I don't recommend titling them as such to students because it increases the formality.
Just ask who wants to share, and let a few voices shine. To make sure everyone has an opportunity to participate, keep track of who has already shared. When you run out of volunteers and still have students who haven't shared, ask them questions about their book.
"Jaclyn, I see you are reading ___. What happened in your reading today?" 
"Nathan, what's your favorite part of the book you are currently reading?"
The expectation to share our reading is a gentle reminder to students:  You need to be reading. It will be your turn soon.  This layer of accountability is one I'm comfortable with because sharing good books is an authentic reading practice.
6:  READING SPRINTS
Here's another after-independent reading activity, and this one engages the whole class! Reading sprints are when students answer a standards-aligned question about their book directly following reading time. They jot their thoughts on a sticky note and then share it on the board.
As a teacher, there are multiple ways we can lead short or long on-the-spot discussions about literature skills using these sticky note collections. Students' responses to questions will give us insights as to what skills we need to hone.
Reading sprints keep the spirit of community reading alive in our class and allow us to tie independent reading to whole-class reading lessons seamlessly!
7:  READING RATE GOALS
In 180 Days , Kelly Gallagher and Penny Kittle recommend having students set their own reading goals based on their reading rates. To do this, have students read for ten minutes. They should record the page they begin on and the page they end on. With that number, they will multiply by 6 to find the number of pages they can read per hour. Then, students should set a goal for the number of pages they want to read in a week.
Gallagher and Kittle suggest teachers could grade students upon whether or not they meet their self-determined goal, but my own preference is to avoid grading with independent reading as much as possible. There have been plenty of times I haven't met my own goals for finishing a book or reading as much as I should have in a month, and I've needed to give myself some grace.
Of course, text complexity plays a role in students' reading rates, and they need to be taught to set goals that are appropriate for the text they are reading. Students can also set goals for engagement, environment, stamina, and variety of reading.
8:  FIRST PAGE SNEAK PEAKS
Hooking students on good books is the first step toward a thriving independent reading program. Over the years, I've noticed the most engaging books often have high-interest first pages.
So…let's take advantage of some sneak peaks! Either with physical books or digitally, have students read the first page, record their thoughts, share their thinking with a small group.
This activity is not necessarily an alternative to a reading log, but it is excellent for building our "to read" lists and promoting a positive reading culture.
9:  VIEWING PARTIES
Viewing parties have recently become popular because they enable groups of people to watch videos together even when they're apart. When it comes to independent reading, why not host trailer viewing parties? Students can enjoy the trailers as they sit in our classrooms, or they can watch remotely.
Viewing parties are yet another way to share amazing book recommendations with others. Students can recommend book trailers they think their peers would enjoy, and teachers can generate book trailer lists based on weekly or monthly themes.
Why not host monthly viewing parties as a way to recap First Chapter Friday books (here's a list from a friend !) you have previewed or other excerpts you've shared? They're a friendly reminder that those books are still available for the reading!
Get new books on students' radar by finding authors who are reading excerpts from their own books. Or, invite authors on Twitter like Jennifer Nielson to host a virtual book reading or Q and A with your class.
10:  GENRE EXPOSURE
I first began introducing literary genres slowly throughout the year when I read The Book Whisperer years ago. Over time, I saw the value of this approach. While older students generally already have a specific taste for certain genres, exposing them to a variety of them throughout the year helped students to expand their palettes.
Some specific ideas…
Introduce new genres with a brief set of notes. ( You can find mine here .) Discuss common characteristics of that genre. Read excerpts from those genres…first pages, first chapters, high-interest passages, and back covers. You can also hold a genre sorting activity to get more books in students' hands.
11:  COLLECTIVE READING WALLS
After students finish a book, have them fill out a book spine and add it to your classroom decor! This simple activity gives both teachers and students a visual for community reading volume. The trickiest part of using the book spine strategy is remembering to have students fill them out! So, I recommend building in a regular space for this to happen.
Choose a day of the week, and write it into your lesson plans for that day! On a bi-weekly or monthly basis, give students 5 to 10 minutes to complete their book spines in class and add them to the wall if you desire.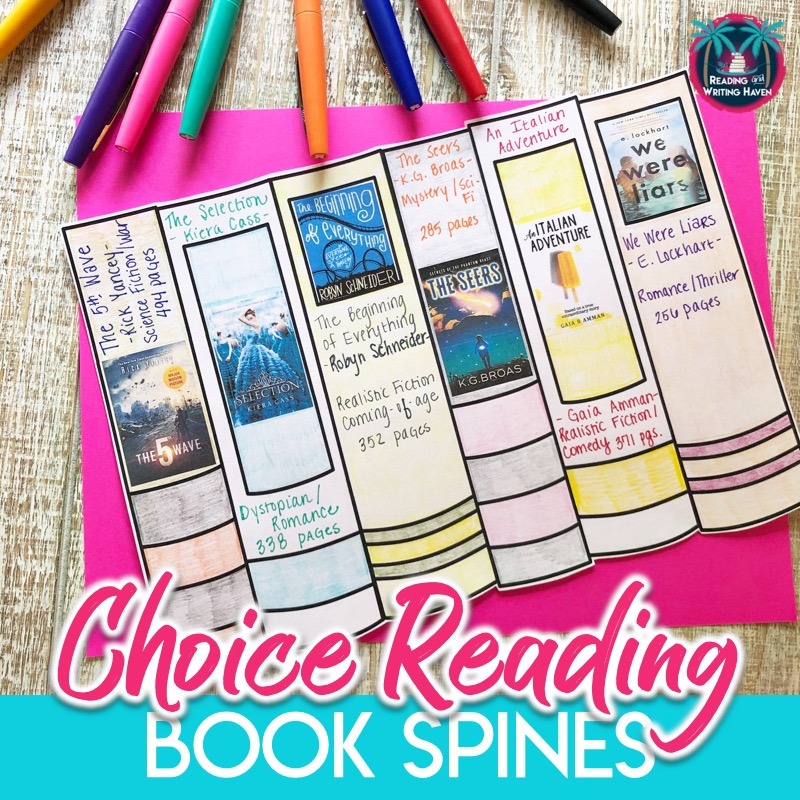 12:  READING LADDERS
Reading ladders are my absolute favorite alternative to the reading log! They still allow space for students to record what they've read. But they feel less intrusive. Plus, reading ladders are convenient for discussing book diet, reading volume, and reading identity.
With a reading ladder, you start with a bookshelf. Then, choose how you want to label each shelf. I often choose to label shelves with words like "just right," "entertaining," "challenging," "easy," and "frustrating." This labeling system helps readers to identify the complexity of books they are reading. We always discuss how it's okay to read a picture book that is easy. And, it's okay to read a classic that is challenging! The key is to know what you are reading and why.
Here are my my print and digital reading ladders.
13:  READING DISPLAYS
Another way we can make reading a visible part of our classrooms is through bookish displays. It's hard for students to forget about reading when they are surrounded by high-interest novels! Reading displays are a non-invasive way to track collective reading.
Display novels you want to draw attention to at the front of your classroom or face-out on your library shelves. Consider having students contribute to a class bulletin board. Here are some bookish bulletin board ideas I've created using social media concepts.
14:  READING CHALLENGES
Engage readers with challenges to get them reading more often! Try challenges with unexpected twists. Read under a homemade fort, in a hammock, or on vacation. Expand your genre diet by dipping your toes into something new. Recommend books to a friend or read something recommended by a coach!
Format reading challenges into a tic-tac-toe choice board or BINGO board and have them submit their titles whenever they finish a certain number of novels.
You can also work with students to create individual or whole-class challenges to read a certain number of pages each week or month. Students can fill out a simple Google Form at the end of the time period to indicate how many pages they read.
15:  READING JOURNALS
After reading, we can ask students to write about what they've read. Connecting reading and writing is a healthy habit that encourages reflection and creativity. When students see literature from an author's point of view or when they approach their own writing to apply the literature techniques they've analyzed, students are empowered!
Reading journals (whether recorded digitally or in a reader's notebook) are one way to build in standards-aligned accountability. We can hit both reading and writing standards! Here are two sets of writing journals you can use to get started with journaling about reading:  Set 1 and Set 2 .
Want to prioritize the questions but cut the writing? Readers naturally discuss what they are reading with others! Promote a book club type culture ( even when students are all reading different books! ) by keeping high-interest discussion prompts or more basic comprehension-style questions handy.
The KEY:   Every good idea is only good in moderation.
As with reading logs, any and all of these tools could be used in a way that negatively impacts our readers…including using them too often or treating them as "I gotchas." It's ongoing work and reflection to identify whether what we are asking of students is drawing them closer to reading and further on their reading journeys or whether it is doing the opposite.
If we really want to know whether our students are reading, all we need it do is watch them. Are they devouring books? Sharing their favorite parts? Carrying books with them? Flipping pages with eyes tracking during independent reading time? These are authentic indications of reading. Best of all, they don't add anything to our plates, and they won't turn our readers away from books.
Subscribe to our mailing list to receive updates about new blog posts and teaching resources!
Reading and Writing Haven will use the information you provide on this form to be in touch with you and to provide updates and marketing. Please let us know all the ways you would like to hear from us:
You can change your mind at any time by clicking the unsubscribe link in the footer of any email you receive from us, or by contacting us at [email protected] . We will treat your information with respect. For more information about our privacy practices please visit our website. By clicking below, you agree that we may process your information in accordance with these terms.
We use Mailchimp as our marketing platform. By clicking below to subscribe, you acknowledge that your information will be transferred to Mailchimp for processing. Learn more about Mailchimp's privacy practices here.
Melissa Kruse
An avid reader and writer, I've had the privilege of teaching English for over a decade and am now an instructional coach. I have degrees in English, Curriculum & Instruction, and Reading as well as a reading specialist certification. In my free time, I enjoy loving on my kids, deconstructing sentences, analyzing literature, making learning fun, working out, and drinking a good cup of coffee.
Why We Need to Say Good Riddance to the Reading Log Forever
My favorite end-of-class routine ideas: calming the chaos, you may also like, using student-created graphic organizers to elevate learning, modeling with graphic organizers: a surefire way to..., 5 helpful ways to use ted talks in..., how to create a calm and predictable yet inspiring..., 7 good examples of emotional character development –..., 4 essential purposes that drive strong vocabulary instruction, how to tackle test prep writing prompts in..., 8 ways to make student-led discussions more productive, how to use text sets to build background..., why we need to say good riddance to..., 6 fun back-to-school activities for building classroom community, 9 questions that help students analyze diversity in..., 6 reading routines every classroom needs, creative reflection technique: everyone wins when students map..., how to use reading sprints for motivation and....
Kindergarten
Arts & Music
English Language Arts
World Language
Social Studies - History
Special Education
Holidays / Seasonal
Independent Work Packet
Easel by TPT
Google Apps
Interactive resources you can assign in your digital classroom from TPT.
Easel Activities
Easel Assessments
independent reading projects for middle school
All Formats
Resource types, all resource types, results for independent reading projects for middle school.
Price (Ascending)
Price (Descending)
Most Recent
Reading , Book Project - Independent Novel Study Middle School for ANY BOOK
Independent Reading Book Review Banners & Writing Project Middle & High School
Independent Reading Book Review Project | Writing Prompts Middle and High School
Independent Reading Banners | Book Review Project Middle & High School Any Novel
Independent Genre Reading Project - Middle School
Middle School Independent Reading Projects for Student-Selected Books
Multi-Genre Project for Any Novel - Middle and High School
Create a Board Game Book Report Project | Post Reading Assessment
Project Choice Board for Any Novel Middle School Novel Study Independent Reading
Novel Study Guide for Any Novel - Print and Digital Middle School Generic Bundle
Critical Book Review Project | Book Report | Independent Reading Assessment
March is Reading Month Bundle - Middle School Activities, Warm-ups, Worksheets
Short Stories Activities and Worksheets - Print and Digital Middle School Bundle
Novel Study Bingo Choice Boards - Middle School Reading Projects for Any Book
No Prep! "Dust Jacket" Book Report Project - Middle School Science or Any Book
Black History Month Instagram Research Activity Middle and High School
Independent Reading Book Jacket Project (ELA & Literature)
Reading Accountability - Novel Study Project for Middle School
Independent Reading Project + Rubric
Independent Reading Project : Glogster
Independent Reading Project Choices EDITABLE WITH GOOGLE DRIVE AND PRINTABLE PDF
Independent Reading Project and Notes Sheet Any Novel
Independent Reading Project
Workbook for ANY Novel: Unit Study Grades 7-12 EDITABLE + Independent Reading
We're Hiring
Help & FAQ
Privacy Policy
Student Privacy
Terms of Service
Coffee Shop Teachers
Free Samples
Independent Reading for Middle and High School
Independent Reading that WORKS in Middle and High School
Independent Reading can be a great gift to students - a quiet moment in their day and the development of a lifelong love of reading. Imagine: a quiet classroom where everyone has escaped into their own novels. That's the dream, right?
When I first tried independent reading in my classroom, it was more like giggles and snickers every few minutes as Tommy tickled Jessenia or when Shane farted. Ughhhh.
So how do you move from chaos to responsible freedom?
Tips for Independent Reading
If you're struggling with issues of accountability or student behavior during reading time, here are some tips to get everyone on the same page (see what I did there?):
Start small and build up. In the first couple weeks of trying (or retrying!) independent reading, start small. You can start with 5-minute increments. Ideally, these won't be at the beginning or at the end of class, since kids can be so squirrely during those times. Instead, try using this block as a break between other activities.
Model reading. If they're reading, we're reading. It can be so tempting to grade papers during this time or catch up on emails. Instead, let's model a settled focus.
Talk right after reading. After reading time is over, start a conversation! I use my Reading Response task cards in a Think-Pair-Share style. Students could get prompts like "Imagine the last scene you read set in a different location" or "How would the main character in your novel respond to ___?"
Should you grade independent reading?
You may also be wondering how to grade independent reading and how to hold students accountable if you don't grade.
I personally don't like grading reading because I wouldn't want to be graded.
When I've been required to grade reading (ugh!), I've had students create their own reading guides . This is a choice board that they complete over the course of their novel. I check progress four or five times throughout the novel. I love that this activity provides some structure for independent reading, especially for middle school. One thing I don't love about this approach is that students are adrift if they want to abandon a book and start another.
Alternative activities for independent reading
Book Conferences - once or twice per quarter, have students sign up to chat with you for five minutes about a book they're reading/have read. You can easily find the synopsis on GoodReads and then ask them to tell you about elements of literature. I like to ask questions that lead them to their next book choice, like "Oh, I see this book had dragons! Do you want to read another fantasy book?" or "Oh, I see this author is well-known for summer romances. What else would you like to read by them?"
Reading Response task cards - These cards emphasize creative reading , which gives students ownership over the text. In short conversations with partners or in journal entries, they can imagine how it would have changed the text if one element (plot, setting, characters, conflict, theme) had been different in some way. This is a great activity to get kids speaking and listening.
Book Talks - Students can prepare a book talk for their book. This guided worksheet will help them brainstorm. You can grade these talks if you want or just let them be practice for larger presentations. I like to have students give book talks to small groups of 4-5 students. Everyone does this at the same time, so it takes 20-25 minutes to get through all of the presentations. This approach gets students to build their speaking skills in front of a smaller, less intimidating audience than the whole class.
What are your favorite activities for independent reading? Be sure to grab the Book Talk freebie !
Happy teaching!
The Secondary English Coffee Shop
21st Century Learning
active learning
Anti-Racism
artificial intelligence
Back to school
Banned Books Week
Bell-Ringers
Black History Month
Book Recommendations
characterization
Classroom Community
Classroom Library
Classroom Management
Collaboration
College and Career Readiness
common core
Creative Writing
Critical Thinking
distance learning
Diverse Books
ELA Teachers
End of the Year
English Language Arts
Espresso shots
High School English
Independent Reading
Informative Writing
Interactive Notebooks
Journal Prompts
Lesson Planning
literary elements
Media Literacy
Novel Study
Organization
peer editing
personal narrative
Picture Books
Pop Culture
Professional Development Resources
Public Speaking & Drama
Puzzles & Games
Reading Strategies
remote teaching
Secondary Sara
Shakespeare
Short Stories
Social Media
St. Patrick's Day
State Testing
Substitute lessons
Teacher Wellness
Teaching Analysis
teaching online
Thanksgiving
Using Photographs
Writing Prompts
Popular Posts
Blog Archive
►  August (4)
►  July (1)
►  May (3)
►  April (1)
►  March (2)
►  February (1)
►  January (5)
►  December (1)
►  November (3)
►  October (3)
►  September (3)
►  August (3)
►  June (1)
►  May (2)
►  March (3)
Five strategies for teaching author's purpose
Our Favorite Secondary ELA Resources for the Secon...
►  January (2)
►  November (4)
►  October (2)
►  September (2)
►  August (2)
►  July (2)
►  June (3)
►  May (5)
►  April (3)
►  March (4)
►  February (2)
►  January (4)
►  December (3)
►  August (5)
►  April (2)
►  February (4)
►  December (2)
►  September (5)
►  February (3)
►  January (3)
►  October (4)
►  July (3)
►  June (4)
►  April (5)
►  February (5)
►  December (4)
►  October (5)
►  September (4)
►  June (2)
►  May (4)
Grab Our Button
© 2015 The Secondary English Coffee Shop . Ashleigh Template designed by Georgia Lou Studios All rights reserved. Customised by A Little Peace of Africa
The Edvocate
Lynch Educational Consulting
Dr. Lynch's Personal Website
Write For Us
The Tech Edvocate Product Guide
The Edvocate Podcast
Terms and Conditions
Privacy Policy
Assistive Technology
Best PreK-12 Schools in America
Child Development
Classroom Management
Early Childhood
EdTech & Innovation
Education Leadership
First Year Teachers
Gifted and Talented Education
Special Education
Parental Involvement
Policy & Reform
Best Colleges and Universities
Best College and University Programs
HBCU's
Higher Education EdTech
Higher Education
International Education
The Awards Process
Finalists and Winners of The 2022 Tech Edvocate Awards
Finalists and Winners of The 2021 Tech Edvocate Awards
Finalists and Winners of The 2020 Tech Edvocate Awards
Finalists and Winners of The 2019 Tech Edvocate Awards
Finalists and Winners of The 2018 Tech Edvocate Awards
Finalists and Winners of The 2017 Tech Edvocate Awards
Award Seals
GPA Calculator for College
GPA Calculator for High School
Cumulative GPA Calculator
Grade Calculator
Weighted Grade Calculator
Final Grade Calculator
The Tech Edvocate
AI Powered Personal Tutor
Teaching Students About Brendan Coyle
Teaching students about antiquarks, teaching students about deborah in the old testament, teaching students about the examples of density, teaching students about eastern and western ghats, teaching students about sekhmet: the goddess of war, teaching students about general santander, teaching students about the author of heidi, johanna spyri, teaching students about korea on the map, teaching students about the list of rivers, 20 independent reading activities for middle school.
Middle school students are in a unique position in their reading journey. They are learning to read for comprehension and for pleasure, but sometimes it can be challenging to find activities to help them become engaged and excited about reading independently. Here are 20 independent reading activities to help middle school students sharpen their reading skills. 1. Reading Logs : Have students keep a reading log to track their progress and their thoughts on the books they are reading. 2. Book Clubs : Have students form small book clubs to read and discuss books together. 3. Reading Challenges : Set reading challenges for the students to help them stretch their reading limits. 4. Reading Bingo : Create a bingo board with fun reading activities and have students complete each one. 5. Book Trailers : Have students create book trailers based on the books they read. 6. Book Reviews : Have students write book reviews as a way to practice their writing and summarizing skills. 7. Reading Races : Create a race to read a book and have the students compete against each other. 8. Reading Quizzes : Create quizzes for each book to test student comprehension. 9. Writing Prompts : Create writing prompts for each book to help students practice their writing skills. 10. Book Reports : Have students summarize and analyze the book in a book report. 11. Book Trivia : Create trivia questions based on the books they are reading. 12. Book Recommendations : Have students create a list of book recommendations for their peers. 13. Reading Relays : Create a relay race in which students have to read certain sections of a book in order to pass the baton. 14. Reading Response Journals : Have students keep a journal to record their thoughts and reactions to the books they are reading. 15. Literary Analysis : Have students practice literary analysis skills to analyze characters and themes in the books they are reading. 16. Reading Scavenger Hunt : Create a list of items for students to find in the books they are reading. 17. Story Ma ps: Have students create story maps to help them visualize and analyze the plot of the book. 18. Debate/Discussion : Have students debate or discuss themes or characters from the book. 19. Book Cover Design : Have students design book covers for the books they read. 20. Book Art : Have students create artwork related to the books they read. These independent reading activities can help middle school students build their reading skills and become better readers. They can also help students become engaged in their reading and excited about their books.
20 Amazing Genetics Activities for Middle School
20 creative games with stuffed animals.
Matthew Lynch
Related articles more from author, the power of rap and hip-hop in the classroom, helping students cope with a difficult year, how to write an email pitch in 8 steps, 6 ways to honor the learning process in your classroom, what is native american mythology, dos and don'ts of classroom decorations.
8 Fun Reading Activities for Middle School Students
Gia R. is from Phoenix, Arizona. She graduated with two business degrees. While studying, her short nonfiction story was published in 2018 in Write On, Downtown, an ASU journal. Since then, she taught preschool students abroad. Now back in AZ, you'll find her writing, reading, and adoring digital art.
View All posts by Gia R.
In my experience as an educator, I've found that there are many students who already love to read and others who don't show any interest. This could be for a variety reasons. Some don't have the skills to read books appropriate to their grade level. Others haven't been given the chance to explore new books and try new genres. With those reasons aside, many students don't engage in reading because they haven't learned how fun it can be. These fun reading activities for middle school students can help.
It may sound simple, but it often just takes one book to transform a child's indifference into love. That's how it started for me. When I was younger, I did my summer reading challenges, but I was frequently bored with the books I selected. I wanted to like them more, heck, I wanted to pick better books, but I wasn't finding much in the sections marked for children. I remember pushing through books just to get the little prizes offered by my local library. For the record, those free chocolate Frosties at Wendy's were totally worth it. My feelings about reading changed in 7th grade when I read some books that challenged me, but also inspired me. These books weren't my favorite by any means, but they made me hunger for more. They made me want to find more books where I could discover hidden truths.
Sometimes it takes one book..and a little help. My mentors and teachers were essential in this reading journey. As educators, parents, librarians, we can't always find that one book that will ignite that excitement, BUT we can create interest in the whole reading experience.
How does one do that? By taking advantage of the learning environment. Consider what we can we utilize in this setting, including other students in class, group activities, opportunities to use creativity, educational resources, and the teacher's knowledge.
When reading a book with students, it's important to employ multiple activities that can engage different kinds of students and readers. That means incorporating multisensory activities and group work. It also involves making adjustments to the content based on the books you're reading and the student you're teaching.
For the sake of this article, I'm focusing on activities for middle school, but some of these can be modified for older and younger students.
Fun Reading Activities for Middle School Students
Challenge middle schoolers to draw a map of the assigned book. This could be a map of the world or of a bedroom, restaurant, or other location. Students could do this individually or in small groups. Better yet, assign places or parts of a world to different groups and come together as a class at the end with all your parts.
This will help students imagine the plot and engage their creativity! It can also spur on a discussion of the importance of the setting to the plot, themes, character development, etc. This is a good activity to prepare students for more complex discussions!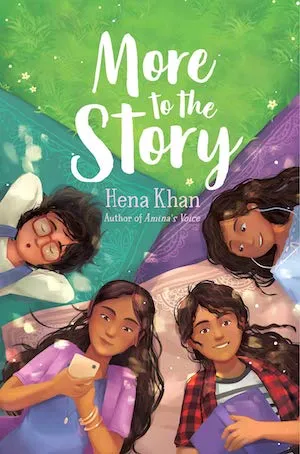 2. Write a Letter To the Main Character
Pick a critical point in the story for your students and have them write a letter to the main character. This helps students practice summarizing and expressing their thoughts on certain characters. It also provides some insight into each student's ideas about the book. What plot points do they consider important? What do they want the main character to know right now? What would your students write to Jameela in More to the Story , a writer whose sister is gravely ill? What would they tell her to do?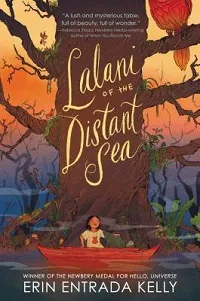 3. Utilize the Five Senses
Create experiences that engage the five senses. For taste, see if you can bring a significant treat from the book for your students to try. I'm sure I'm not the only one who NEEDED to try Turkish delight from The Lion, the Witch, and the Wardrobe . What about touch? Bring fabrics or other garments that characters would wear from King Arthur and His Knights of the Round Table for your students to touch. Bonus points if you can find something that's close to armor! There's a lot of options for sight. You can find videos or pictures that help students visualize a place, character, season, etc.
For hearing, try playing certain sounds while reading aloud. Pretend there's a storm in your classroom by letting students listen to thunder and other storm sounds. This would be perfect for books with characters embarking on dangerous journeys. Listen to the sound of crashing waves and stormy seas as you imagine a brave girl leaving her home in Lalani of the Distant Sea . You could also play music that gets students in the mood to read based on the genre. To this day, I often listen to intense movie or video game soundtracks when reading fun adventures of pirates or time travelers. For books like Holes , it'd be interesting to have students listen to the sound of digging to help them imagine the circumstances that many of the characters are in. Lastly, utilizing smell can be an exceptional tool when significant to the book. Mimicking the smells from a forest or field can help transport a reader to the world written on pages.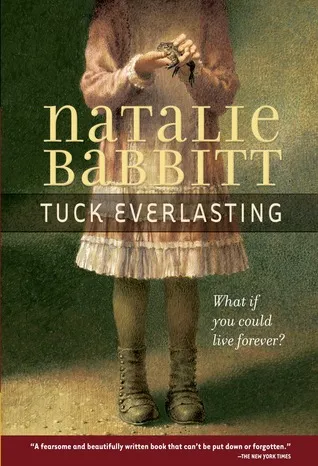 4. Imagine a Different Ending
This could be done as a class, in groups, or individually. After finishing a book, it's worth discussing alternative endings. Prompt readers with a question. Do you agree with the ending? Why or why not? How would you change it? This would be especially helpful for books that leave some readers dissatisfied, disinterested, or confused. For example, consider the ending of Tuck Everlasting . Ask your readers what they think about Winnie's choice. If they could change the ending, would they and how? They could write their response, discuss it with a partner, or participate in a class discussion.
5. Assemble the Sequence of Events
This is a helpful activity to do at the midpoint of the book or end, depending on the length and amount of events that occur. Have readers get into groups to put major plot points in order. Depending on the level of the book and the reader's skill level, you could provide the plot points or ask the students to compile a list themselves. Ask them to write down the five most important events in this book. Watch as they justify which events are more important than others! This is a great way to gauge overall understanding and allow readers to practice summarizing.
This activity would be more or less fruitful for engagement depending on the book. Consider the sequence of events in books like Clean Getaway and The Giver . What events take place early on in Scoob's road trip with his grandma? What information does Jonas learn first from the giver and which are the most significant? What do both characters learn about others and the world during this time? It can just include the main points or several details like the one below.
View this post on Instagram A post shared by Juliana | Nature learning (@the_crafty_kiwi_teacher)
6. Create a Monologue From a Side Character's POV
Provide a set of options for characters and plot events. Put the options in separate hats and have students choose one of each. In this way, students will choose a character and something that the character is concerned about or involved in. You don't have to create too many options because several students can have the same characters and plot events while generating different monologues. This would be enjoyable in groups or individually. Make sure to make time for students to present their finished work to the class. Additionally, they'd need a demonstration to get those pencils moving. Time to brush up on your acting skills. To really get them thinking, consider a warm up activity where they imagine and draw what the character would see via a keyhole in that scene.
7. Interview a Hero or Villain
Have your readers write a list of questions they'd ask some of the main characters in the current book you're reading. They could be silly or serious. Ideally, both. Then, students can go around sharing their questions with their peers. If you want to take this a step further, assemble a small group of students who could try to answer the questions as that character. They could use the book and their own reasoning to provide some textual evidence for their answers.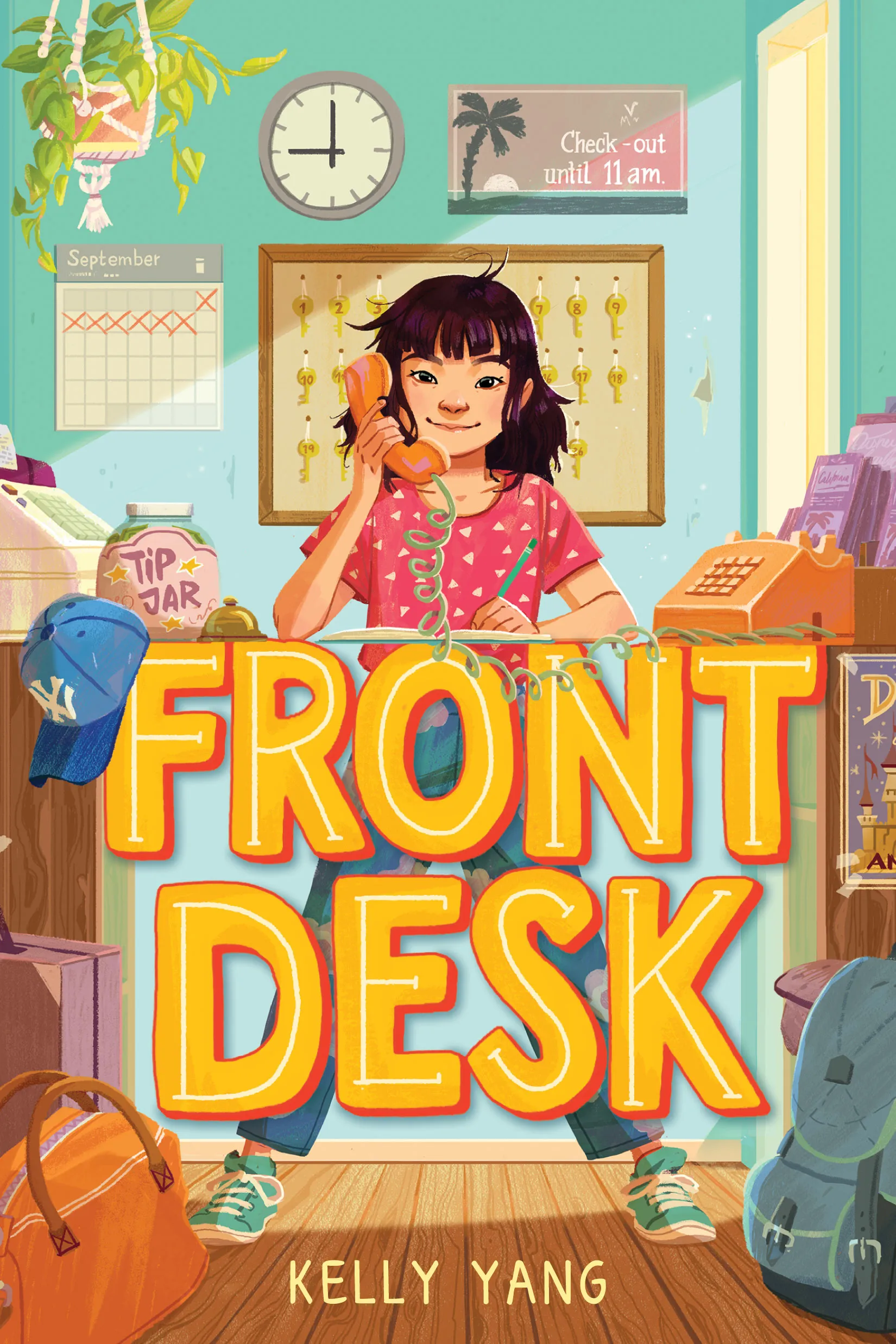 8. Plan a Celebration
Okay, I know that any sort of celebration can take a lot of planning and work, but hear me out. Imagine a day at the end of a quarter, where students show what they've learned in an exciting environment. At the beginning of a unit, you can present this as a final project that students display on a special celebration day. Readers get the option to perform a specific scene, make a diorama of a setting, or further develop the backstory of a particular character. Since the event will happen at the end of a unit, they can choose from an assortment of books read during that time. Require a sign up for each option so you know what the celebration will look like. You can even have students vote on their favorite performance, diorama, etc. I'd definitely be interested in dioramas of the Calivista Hotel in Front Desk . I wonder what details students would put in their little motel. The goal for this final event is to help them engage with the current material. As you read each book, encourage the students to think about what they'd like to do and why. It gives them another reason to participate!
Don't have a class full of students? Plan to throw a little party after reading a book or two. Let your reader decide what to work on (acting out a scene, diorama, character backstory). In both cases, it is a celebration so food should be involved. Choose a few notable treats from your books and include some book appropriate music!
I hope these activities can get your middle schoolers more engaged and ready to read! Want your middle schoolers to read more? Find books and other activities by reading these posts:
8 Contemporary Middle Grade Books To Look Out For In 2022
25 Of The Best Middle School Books for Today's Readers
15+ Great Activity Books For Kids to Inspire Indoor Fun (And Learning)
You Might Also Like
Just Add Students
Tools to Help You Teach Middle School ELA
How to encourage independent reading in middle school
If you want your students to read – or read more, check out these suggestions for making independent reading more successful.
First: get to know your students as readers
Ask students to complete a short survey.
My favorite questions are:
How do you feel about reading? Why?
What is hard about reading?
What's easy about reading?
Do you have a favorite book? What is it?
How many books did you read last year?
I want you to know that this post contains affiliate links. As an Amazon Associate, I earn a small fee from any qualifying purchases you make. You can read more here.
You might want to share your own answers to these questions with your class before they take the survey.
They may think reading is hard, but cannot say why. By sharing your own answers, you can help them find a voice.
A quick survey like this will tell you a lot about your students. Of course, as the year progresses, you'll learn more about what they like and don't like.
Just collect the surveys, review, and stick in a file. These are just a way for your to understand your class a bit better.
Next: get a buy-in
Kids need to know WHY they should read. Middle school students are old enough to understand research and why reading is important.
Here are the statistics:
Research done in the 1980s revealed that in order for students to gain vocabulary and build up their understanding of words (and increase comprehension), they need "extensive reading across a broad range of subjects."
You may want to share the infographic below with them.
When students see the value of reading, you may find they're more interested in giving it a try.
Then: set reading goals
Goals can be powerful motivators.
Help your students set up their goals — and continue to visit them.
Consider a class reading challenge , but if students are resistant to that, just go ahead and set individual goals.
The reading survey can help you guide students as they create goals. The student who didn't read a single book last year may want to just focus on a goal of finding a book he or she likes and finishing it.
Instead of setting up goals for the whole year or even for a grading period, try creating goals for one week or a month. Smaller goals will be easier for struggling readers to achieve.
Provide reading time
If you want your students to build the habit of reading, you have to give them time to read.
While this is difficult, you'll eliminate the dreaded "reading log" or "reading minutes" homework chart. Reading time is also a great way to settle students at the start of class or during a transition.
Additionally, when you carve out some precious classroom time for independent reading, you are showing students that reading is so important that you will do it in class.
Allow reading choices — real choices
Treat your students like adult readers.
However, I don't mean they should be reading adult books — I do mean that they should be allowed to choose what to read.
If a student is stuck on reading only fantasy or wants to simply read comics…well…the school year is long, my friend!
You will be able to gently nudge your students to try new genres and topics as the year progresses, they get more confident in their reading, and you get to know what they like.
Rather than insisting that students read a particular genre, find a book you're familiar with that you think a student will like.
A personal recommendation with the phrase, "I thought of you when I read this…" can go a long way!
Candy books?
I call them "candy books" — these are books that are easy to read, not very filling, easy to forget…and maybe they leave you wanting more.
You know them…the Captain Underpants of the literary world.
Should students be allowed to read them?
I think so.
Again, I go to the adult reader. I like to read cookbooks. Weird, right? I don't ever actually cook any of the recipes, but I like to look at the pictures!
This is one of my favorite things to "read" when I'm unwinding at night.
They aren't great literature, but they are completely entertaining!
Of course, though, I probably would get bored by reading cookbook after cookbook — I'd want to mix it up a bit.
Our students can do the same.
If you notice students who are reading texts that are far below their ability and they are consistently choosing those texts, it's probably time to have a conversation to discuss why.
And that brings us to tracking out what our students are reading…
Checking in on independent reading progress
I'm a huge fan of Nancie Atwell . Her book, The Reading Zone and In the Middle are wonderful resources if you are getting started with reading workshop.
One of the best ideas I adopted from her books is "Status of the Class." It's a way to check in with your students to see what they are reading and how they are progressing.
I changed the way I use this "check in" method — and you can see how I collect reading data from my students in the video below.
Why this works:
The status of the class page can be a great reflection piece for students. They can see what they're reading, how they are progressing, and what their reading habits look like.
For students who ARE reading:
Status can show them how fast they're moving through texts, what kinds of books they're choosing, how often and what books they're abandoning. It can give them a real sense of accomplishment and reinforce their goals.
For students who AREN'T reading:
Status can be a great place to start a discussion with a student. It helps me ask questions like:
why aren't you reading?
what's preventing you from finding a book you love?
how can I help?
what kind of books do you love?
It is also a great way to meet with parents, learning support staff, and even your librarian along with a student. We are all trying to help that child find and love a book!
Because — this might be the first time that has happened!!
If you'd like an editable status of the class along with 17 mini lesson topics for establishing your independent reading program, you can find them here.
Abandoning books?
As adults, we abandon books all the time!
We should allow our students to do the same.
You can use Nancy Pearl's "Rule of 50" ; which states that if you are under 50, you should read 50 pages. I've adapted that rule. Students subtract their age from 100 and read that number of pages before deciding to abandon a book.
Here is another reason for dedicating a sustained period of time for your students to read —
They need time.
If you read one page of a book at night before you go to bed, you'll never truly "get into" the book — it may never grab you because you just haven't given it enough time.
By providing students time in class, even if it's a solid ten minutes, we're giving them a chance to give a book a chance!
Read alouds
Often we think that reading to our middle school students is "baby" and they won't respond.
Give it a try!
Choose a funny book with short chapters that can capture their attention at the start of the class.
One of my favorite read alouds is Dan Gutman's Get Rich Quick Club . This is a fast read with short chapters — most likely below your students' reading level, but so much fun to read. Especially if you like to use accents and different voices.
Another great read aloud is Eoin Colfer's The Wish List. I love the Artemis Fowl books (also great to read to your class!), and this stand-alone book is interesting, clever, and quirky.
Another that is great to read around Halloween is Bruce Coville's The Monster's Ring . The story about a boy who can turn himself into a monster in order to get revenge on a bully. Another very easy read, but fun, short chapters that will keep your students' interest.
And I love all of Carl Hiaasen's kids books like Hoot and Flush .
Why it's worth a try:
You won't always hit a home run when choosing what to read to your students. Sometimes you might just want to read the first chapter to see if it interested them.
But reading out loud can help students get through the difficult first chapters where the characters and plot are introduced.
What if you don't like to read out loud?
Try an audio book from your library. Many of Bruce Coville's books have a full-cast audio with sound effects. So engaging!
What about grades?
Some teachers will ask students to write them a letter each time they finish an independent reading book. Some ask that students write a journal entry.
Before you do that, consider this:
What is this going to do to your grading workload? Sure, the letter sounds like a great way to dialogue with your students, but consider how much time that is going to take (been there done that!).
If you are really committed to writing letters back and forth with your students, try it for a month or two first.
That way you can adjust what you want your students to do and manage your workload.
Other options for assessment:
If you are using status of the class (see above), you use that to determine if students are consistently reading.
Have a "spot check" with students asking them to give you a quick review of a book they've just finished.
Instead of a letter, students can just meet with you to tell you about the book. This way you don't have anything to grade.
Use your mini lessons and independent reading. For example, students can look for examples of imagery or dialogue in their independent reading books.
Have a monthly book talk. You can grade them students are giving them.
More about book talks:
I LOVE using book talks as a way for students to share what they're reading and it provides a great assessment tool. Add to that a speaking and listening component, and you have a great assessment!
You can schedule book talks by grading period — or monthly.
Why these are great:
Book talks can really start a reading frenzy! Students want to read what their peers like, and so one great review can start a class reading a title or series!
Your reading goals
If your students have set reading goals for their independent reading, you should too!
In addition, you should read with your students during independent reading time.
Read a book that is popular with your students. It is a great way for you to recommend titles and have discussions with students.
Have a reluctant reader who is really struggling? Read the same text as that student. Just a comment like, "I just got to the end of chapter 2, and I can't believe what happened!" can be a great way to motivate a student.
"I haven't read that far; don't tell me what happens next!"
When your students see that you value reading, they will place more value on it as well.
Rejoice in Independent Reading Achievements
Celebrate your students' successes in reading — whether it's monthly, quarterly, or at the end of the school year.
Here's the easy way:
Simply use the poster in this free resource to track the total number of books your class has read. Laminate the sheet and use a white board eraser to keep track.
You don't have to go crazy…just acknowledge your students' efforts!
So what do you say? Ready to start independent reading with your students?
In case you need a bit of help, check out these resources in my shop.
Let me know how it looks in your classroom in the comments!
With gratitude for all you do,
Leave a Reply Cancel reply
Your email address will not be published. Required fields are marked *