Unisa Extends Assignment Due Dates
The University Of South Africa (Unisa) has announced new deadlines for the extension of semester one assignments. This has been a much anticipated announcement from the university, after students were negatively impacted by the new online system. 
Earlier this year Unisa moved to postpone the due dates of assignments as the university battled technical difficulties with its new online system. This resulted in the inability of students to submit their assignments on due dates. 
Unisa says that management has taken the decision to extend the all assignment due dates that were due before 8 April 2022. 
The university said, "This is to provide additional opportunity to those students who have experienced challenges in their submissions and were unable to successfully submit their assignments. Students can expect to view their new extended dates from 12 April 2022". 
Unisa however acknowledges that some lecturers have made alternative arrangements to students through assignment electives. 
The university said that assignments falling under these categories will be closed off by lecturers and students must continue submitting through elective assignments. 
Unisa added, "The extension of assignment due dates will be done on a staggered basis with the first closing date of the extension starting 16 April 2022 and ending by 27 April 2022. The first semester examination timetable will be made available on the Unisa Examination Timetable Tool and will be available as from 15 April 2022"
The first examination period is set to commence on 16 May 2022.
The automated extension will not however apply to all students as some courses are unique in their assessment studies. 
The automotive extension will not include Graduate School of Business Leadership, School of Engineering, CTA and Signature courses modules. These students must visit their course sites to view their due dates. 
Unisa has thanked students for their patience as they work through the challenges. 
Advertisement
Related Articles
Unisa pgce application: requirements and tips.
Ready to apply for a PGCE at UNISA? This guide has all the information you need, from application requirements to helpful tips for a successful submission.
UNISA Online Application 2024: A Complete Overview for Undergraduate Students
Are you planning to apply to UNISA for the 2024 undergraduate intake? This comprehensive guide provides all the information you need to successfully complete your online application.
How To Check Your Unisa Application Status
The University of South Africa (Unisa) has opened applications for the 2023 academic year's undergraduate and postgraduate programs. The undergraduate programs provides qualifications such as higher certificates, advanced certificates, national diplomas, advanced diplomas and degrees. 
Unisa Faces Challenges With Student Misconduct
Academic integrity is the cornerstone of any educational institution's reputation and success. Recognizing this, South Africa's largest university has recently issued a stern warning to its students against engaging in academic misconduct.
Unisa Under Administration - What This Means For Students And The University
The University of South Africa (Unisa) has been in hot water throughout recent months, leading the Minister of Higher Education to weigh in and place the institution under administration. Unisa has since responded to the Minister's decision. 
Related Content

Interesting Read:  How To Check Your Sassa R350 Grant Appeal Status
Other People Were Also Interested In
A recent announcement around the distribution of social grants in South Africa has been welcomed by many as citizens will have access to their money earlier every month. Sassa has now revealed grant payment dates for the rest of the financial year. Check for your pay date here.
Millions of South Africans submit applications to receive the social relief of distress grant each month. However, not all individuals who apply are successful, and these applicants are encouraged to submit an appeal.
It's that time of the year, applications season. Many universities in South Africa are now taking applications for the 2024 academic year, here's a list of them and how you can apply.
The 2023 academic year has officially kicked off, and 2024 applications will soon be opening. It's crucial to take note of the various dates issued by South Africa's universities so that you don't miss the deadlines to send in your applications. 
The South African Social Security Agency (Sassa) distributes the R350 Social Relief of Distress grant to approximately 7.5 million people each month. These individuals rely on monthly payments to purchase their most basic needs, and may regularly check their Sassa SRD grant application status.
Unisa extends assignment due dates after online portal crashes
Unisa has extended its assignment due dates after its online portal, used by students to submit their work, crashed.
University of South Africa
JOHANNESBURG - Unisa has extended its assignment due dates after its online portal, used by students to submit their work, crashed.
With deadlines looming, students have been struggling to submit their work on the "mymodules 2022 portal" after the university implemented a new learning management system to replace the old, glitchy one.
However, this led to inaccessible study material, unstable connectivity and missed deadlines.
The institution's spokesperson Victor Dlamini has since apologised to staff and students for the inconvenience.
More in Local
The day that was: Nandipha teary in court, CT pub owners racism case withdrawn
CT mayor to help Prasa relocate communities living on central line
Pilanesberg International Airport gutted by fire
WATCH: Young men and boys grab GBV by the horns
Kwezanamuhla: Isicelo sebheyili sika-Dr Nandipha, izikole zamakhono eGauteng.
Meyiwa murder trial: Defence resurrects notion of a contaminated crime scene
Choose an ewn twitter account, choose an ewn app.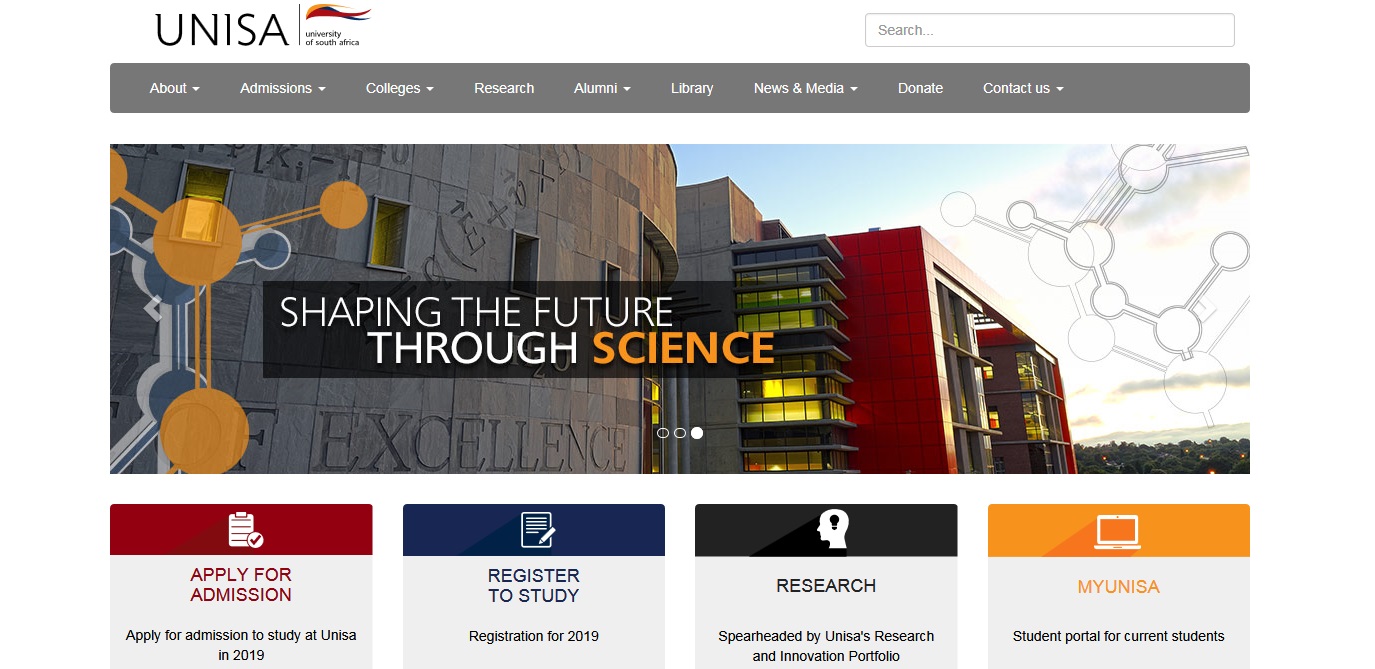 Unisa extends assignment due dates at start of academic year
The University of South Africa (Unisa) has announced a blanket extension for the submissions of first assignments.
"Due to the extended registration date, the university will allow the submission of all assignments until 12 May 2021 where the due date of such assignments are before 12 May 2021. This does not apply to modules offered by the School of Business Leadership (SBL). The due dates of assignments scheduled later than 12 May are not affected by this extension," the announcement reads .
The first assignments for Unisa modules are usually very important for the studies of students. Submission of first assignments before the due date are sometimes a requirement even if they do not contribute to the final mark for that module. Failure to submit on time can also sometimes lead to the student automatically failing that module and / or not being granted access to write exams.
Some students found themselves with little time to submit their assignments as registration closed very recently on 31st March . Just yesterday the university released a welcome message to new and returning students to kick off the academic year in earnest .
Being told "welcome to the school" so close to critical due dates for assignments is a little shocking to say the least.
These close dates are on top of many other problems both at Unisa and outside of it. Unisa has been experiencing problems delivering study materials , for example, and the COVID-19 pandemic continues to ravage the country as vaccinations trickle into South Africa.
"Although we have extended the due date for assignment submission, we urge all students who are able, to submit their assignments as soon as possible to reach the university before 12 May 2021," the announcement ends.
As students struggle with all of this please see below for various articles we've written over the years which are made to assist:
How to track the delivery of Unisa study material in 2021 [ Read here ]
How to book a Unisa campus visit in 2021 [ Read here ]
Unisa dean says students can DM him about poor service [ Read here ]
Unisa students: Consider buying digital versions of textbooks [ Read here ]
5 things I wish I'd known before studying at Unisa [ Read here ].
Categories: Blog , Education , News
Tags: Assignment , Education , Unisa , University of South Africa
Popular News
Australians leave Netflix in droves because they love password sharing
TymeBank the latest to add access to PayShap
Sony adds two new models to its Alpha 7C series
TVET college education needs a refresh, supported by businesses
Subscribe to our newsletter.
We don't spam! Read our privacy policy for more info.
Check your inbox or spam folder to confirm your subscription.
Hypertext is one of South Africa's leading technology news and reviews sites, catering for consumers, small and medium businesses and the technology channel. We publish original content daily and welcome your feedback.
Click here to suggest a story. | Click here for advertising.
All original words & media by Hypertext by htxt.media are licensed under a Creative Commons Attribution-NonCommercial-ShareAlike 4.0 International License. Permissions beyond the scope of this license may be available at Hypertext. Where images and material are supplied by rights holders outside of htxt.media, original publishing licences are indicated and unaffected.
SCHOLARSHIPS
Jobs in Kenya
Jobs in Nigeria
Jobs in South Africa
Jobs in Ghana
COMPETITIONS
Internships
Learnerships
SCHOOL GISTS
Home » Blog » UNISA Assignment Due Dates Extended 2022 – Check Full Details Here
UNISA Assignment Due Dates Extended 2022 – Check Full Details Here
The University of South Africa (UNISA) has recently announced that they intend to implement a new learning management system in an effort to resolve existing issues with the old system.
Thus, the university will be extending assignment due dates when the system is fully operational. UNISA further states that in doing so, they have taken the following considerations into account:
UNISA has acknowledged that students may not have had access to their study material leading up to their assignment submission;
Some students do not have access to their module sites due to late registration;
Certain assignments are fully online, and students were not able to complete their assignments offline; and
Some students were not able to submit complete responses as their connectivity was interrupted.
To guarantee that the academic assessment plan is implemented as intended, the due dates for all Semester 1 assignments will be extended in a staggered manner.
In addition to this, UNISA has also stated that all other matters will be attended to, while their project team is still working to restore myModules 2022 sites back to functionality.
Extended assignment submission deadlines will be communicated to students through their myModules 2022 sites, once the system is fully operational.
What's your take on this? We believe this article was helpful, if yes, don't hesitate to share this information with your friends on Facebook, Twitter, WhatsApp, and other Social Platforms.
Leave a Reply Cancel reply
Enter your email address below to receive updates each time we publish new content.
Type your email…
Latest on the Desk
How To Apply for ICFJ Douglas Tweedale Memorial Fellowship 2023
ICFJ Program Internship 2023/2024 Registration Form Portal
Tana River County Recruitment 2023/2024 Application Form
MEST Africa Challenge 2023/2024 Application Form Portal
Tana River County Public Service Board Shortlisted Candidates 2023/2024 (PDF)
Call for Applications: FAOU Autumn Internship Program 2023
Conrad Challenge 2023/2024 Registration Form Portal
Best Boys & Girls Boarding Schools In South African Provinces 2023
Applications Open for OneBeat Residency Program 2024
Applications Open for GIZ-SAIS Investment Readiness Program 2024
Privacy Policy
Application Dates
Admission Requirements
Online Application
Application Status
Second Semester
Late Application
Change Password
Student Email
Student Hostel
Metro Police Officers
University of South Africa (UNISA) Assignments 2024/2025
UNISA Assignments 2024/2025 – The Management of the University of South Africa (UNISA) has announced on the official website the student assignment and the necessary are listed thereof; UNISA Assessment timetables, UNISA Assignments Deadline, UNISA Assignment Due Date, UNISA Assignment Materials, UNISA General Guide .
UNISA Assignment Materials
Before you start your assignment, these are the materials to get from your lecturer, click to see
UNISA Assignments General Writing Guide
Planning your assignment will help you get focused and keep you on track.
ANALYZE THE QUESTION:
Before you can answer a question, you need to know what it means. Read it slowly and carefully, and try to understand what's expected of you. Ask yourself:
What's the question about? What's the topic?
What does the question mean?
What do I have to do?
DRAFT AN OUTLINE:
Drafting an outline will give you a structure to follow when it comes to writing your assignment. The type of assignment you are doing will give you a broad structure, but you should also check the question and marking schedule, as they will help you understand how the lecturer expects the topic to be structured, what must be included, and which sections are worth the most marks.
From there you can create your outline, using headings and gaps for the information you have to fill in.
Most of the assignments you will have to do are essays, which generally follow the same basic structure:
Introduction (+ 10% of the assignment)
Discussion (+ 80% of the assignment)
Conclusion (+ 10% of the assignment)
FIND INFORMATION:
Before you start writing, you need to research your topic and find relevant and reliable information. You will find some in your course materials and recommended readings, but you can also try:
the Open Polytechnic Library.
your local public library.
talking to experts.
online sources.
Once you've found the information you need it's time to bring it all together and write your assignment.
EDIT AND PROOFREAD:
Once you've written your assignment, you can improve it by editing and proofreading, but before you do take a break. Even a short break helps you to get some distance from your work so that you can check your assignment with a fresh eye.
UNISA Assignment Due Date
Below are the assessment timetables for the various faculties. These timetables are updated as new information becomes available. Please check back regularly to ensure that you have the most recent information.
https://www.unisa.ac.za/sites/myunisa/default/Announcements/Assignments-due-dates-for-year-modules#
UNISA Assignment Form
RELATED ARTICLES MORE FROM AUTHOR
South African Universities Assignments 2024/2025
Regenesys Assignments 2024/2025
Red and Yellow Assignments 2024/2025
Get Smarter Assignments 2024/2025
HyperionDev Assignments 2024/2025
Boston City Campus Assignments 2024/2025
Leave a reply cancel reply.
Save my name, email, and website in this browser for the next time I comment.
Find 2023 Fully-Funded Scholarships Opening for International Students
Unisa Examination Timetable
Enter the required module codes into the request form below and select "Display" to view the timetable. Invalid codes will be ignored. The minimum length to enter is the first 6 characters of the study unit code. Invalid codes will be ignored. -->
Announcements
Search results
Coronavirus (COVID-19) update
Assignment due date extension
We are aware that some students have experienced challenges and are unable to meet the first assignment due date of 24 May 2021. We wish to encourage all students to submit their assignments on time. However, we will keep the module sites open until 7 June 2021 in order to provide those students who experience challenges enough time to submit first assignments. Continuous assessments, Signature modules and ECP modules are excluded.
Publish date: 2021/05/23
Student enquiries
Click here for student enquiries.
Assignments