NEW! Decodable Phonics Books to Build Reading Proficiency. Learn More
Discover Research-Based Phonics Instruction that Works. View the Report
By combining time-tested instructional methods with unparalleled interactive tools, you can extend learning beyond the classroom, engaging Pre-K-5 students of all levels. Handwriting Without Tears' print and digital solution meets ESSA's Tier 2 evidence criteria .
Handwriting Without Tears®

Direct Instruction

Multiple Modalities

Cross-Curricular Instruction

Intuitive, Effective Design

HWT Delivers Success
<< Return to Handwriting Without Tears® Home
Shop now! Get started with our literacy solutions
Start your handwriting literacy journey today! Browse our shop and find our classroom kits and materials-designed for Pre-K-5 students.
Need support for Handwriting Without Tears? We're here to help!
New! Summer school pacing guides and resources available for download.
A Modern Evolution for a Timeless Practice
Research-backed curriculum designed to be easy to teach and easy to learn
Developmentally appropriate sequence flows from Pre-K–5
Explicit instruction combined with guided practice to promote handwriting automaticity
Multisensory learning engages visual, audio, and kinesthetic learners
Hands-on tools to build vocabulary, fine motor, and alphabet knowledge prior to writing letters
Handwriting student editions foster student success with a clean, simple and intuitive design
Online platform connects teachers, students, and families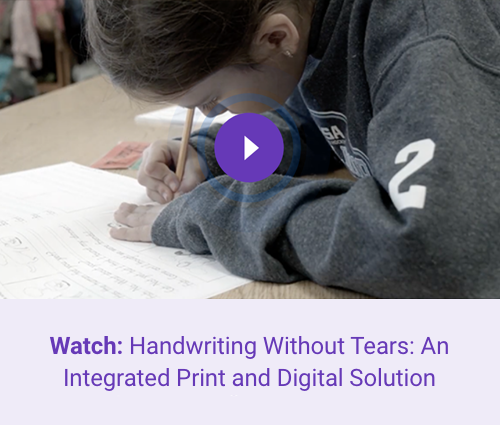 An Integrated Print and Digital Solution for Handwriting
Educators today need flexible instruction that meets the needs of each student. Our integrated print and digital handwriting solution combines simple print editions with powerful digital tools that help bridge the divide between school and home like never before.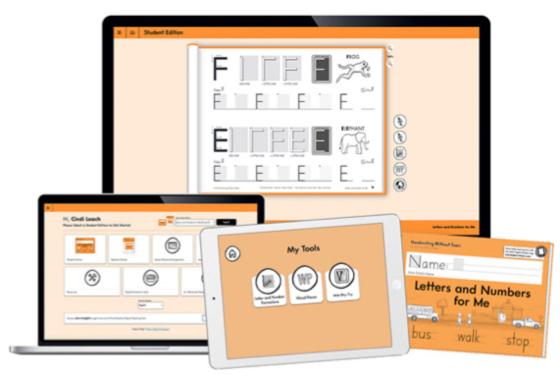 See the Handwriting Without Tears Process
Our instructional methods are designed for success. Explore the teaching strategies that have helped students make handwriting a natural, automatic skill for more than 40 years.
How Handwriting Without Tears ® Aligns to the Science of Reading
Handwriting is one of the foundational skills that leads students toward automatic word recognition. It falls in the bottom, skills portion of Scarborough's rope. As students form letters, they are solidifying the alphabetic principle. They need to be able to retrieve the symbol for the sound automatically, so as students practice in Handwriting Without Tears (HWT), they are learning to transfer that knowledge.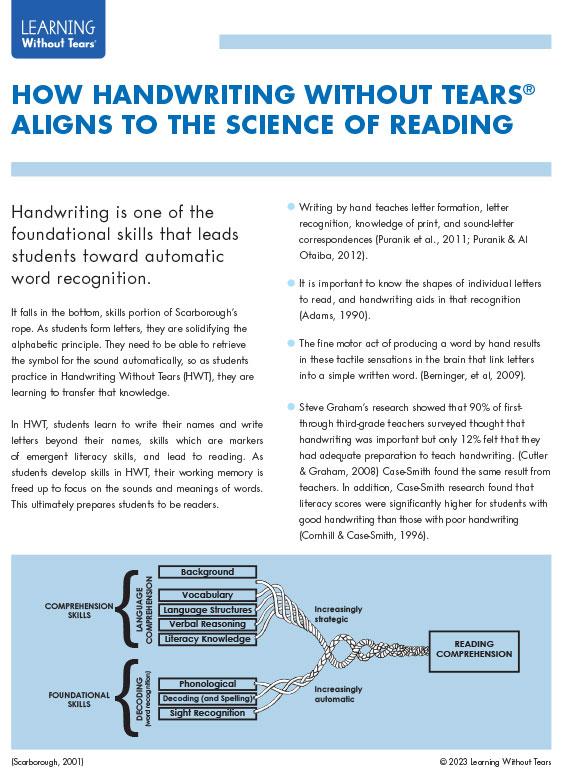 See For Yourself!
Click below for individual samples or check out our samples page to see the Handwriting Without Tears difference.
Samples from Cursive Handwriting. Shop Now on our store.
Samples from My Printing Book. Shop Now on our store.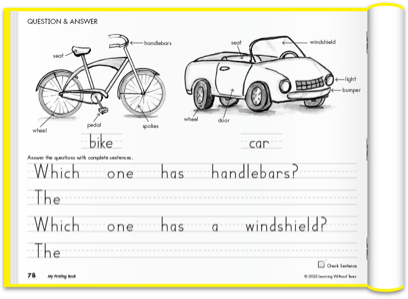 Samples from Cursive Success. Shop Now on our store.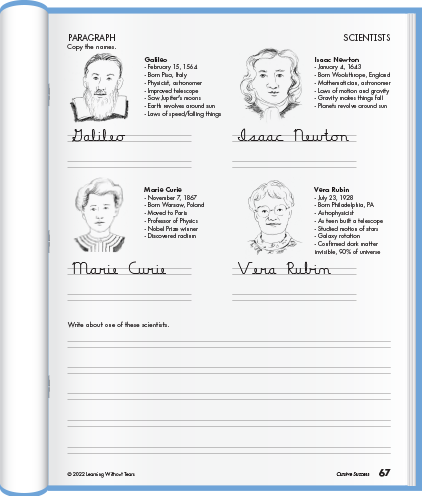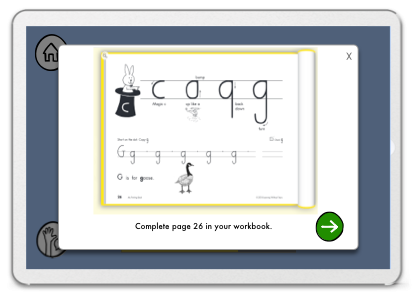 Eligible for Federal Funding
Handwriting Without Tears ® print and digital solution meets ESSA's Tier 2 evidence criteria. Explore how you can use available funds to support reading in your schools.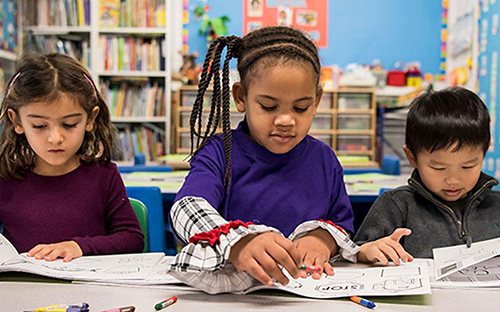 HOME SCHOOL HELPS
EARLY LEARNING
LANGUAGE ARTS
READING/LITERATURE
ENGLISH/WRITING
SPELLING/VOCABULARY
HANDWRITING
MATHEMATICS
HISTORY/GEOGRAPHY
FOREIGN LANGUAGE
ART / CRAFTS
LIBRARY BUILDERS
GAMES, PUZZLES & TOYS
HOLIDAY & GIFT
REQUEST CATALOG
EXHIBIT SCHEDULE
ENGLISH / WRITING & GRAMMAR
WRITING PRACTICE
Building Writers
Building Writers Student Workbook B (1)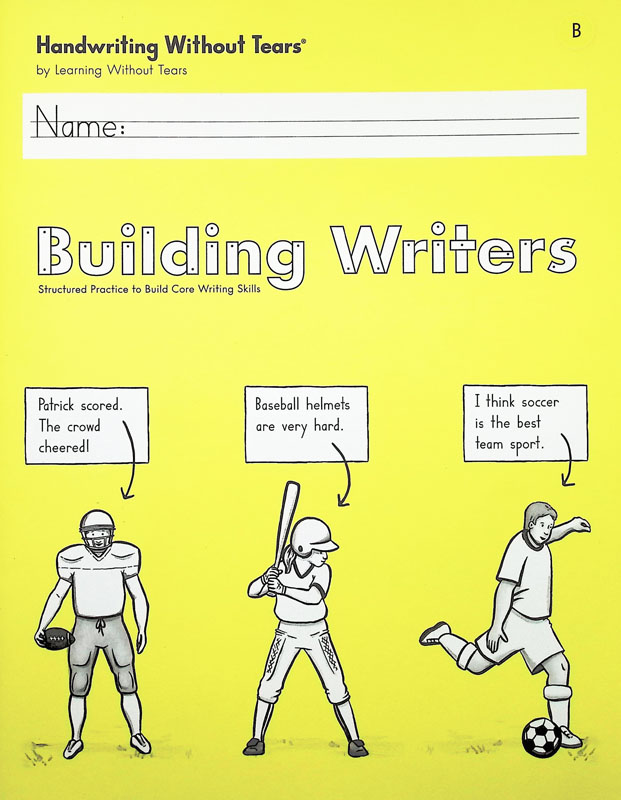 "Bargain Books" are brand new items that have minor physical blemishes due to shipping or handling that do not affect the use of the item. All Bargain Books are sold as is and all sales are final (no returns, exchanges or cancellations). Bargain books will remain in shopping cart for up to 12 hours and will then be removed if order is not completed. Orders consisting of regular and Bargain items can be purchased by credit card or PayPal and are shipped together (with two packing slips).
This item is a digital download file and is not a printed or physical product. Upon completion of checkout, you will receive an email with a link for you to download the file and save to your local device. Please note that ebooks and other digital media downloads are not returnable and all sales are final.
Product Description:
Copywork, sentence prompts, short answer questions, free drawing, and simple labeling exercises.
Publisher Description:
Building Writers offers extra practice for writing skills development. It's easy to incorporate into a writing block as independent writing or as whole group practice to meet your students' varying needs.
Structured practice to build core writing skills
Developmental approach to writing
Offers customizable writing templates to fit with any topic
Builds confident communicators and improves overall communication skills
Practical application of handwriting skills
Eliminates the need for worksheets
Building Writers (B) First grade students practice three styles of writing:
Narrative: Write a story in order with details and an ending
Information: Write topic sentences, facts about their topic, and an ending
Opinion: Write an introduction that states their opinion, reasons that support their opinion, and a conclusion
These workbooks from Learning without Tears , are created to give children structured practice in core writing skills. Each workbook focuses on three writing types: narrative, information and opinion. Each workbook's content is developmentally appropriate and scaffolded to progressively move students toward stronger understanding and greater independence in writing. Each workbook also contains templates at the end of each section for further practice. Workbooks include a brief overview of the course and each of the writing topics are introduced and taught. See the publisher's web site for a teacher's guide to use these in a classroom. See leveled books for more information on content and style. 86 pgs, pb. ~ Deanne
These materials focus on providing writing practice and offer little to no instruction.
Was this review helpful? Yes ( 0 ) No ( 0 )
Flag as Inappropriate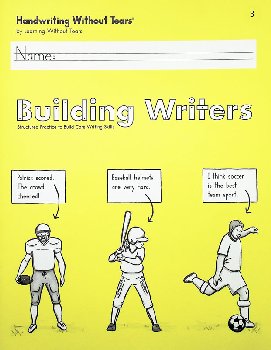 ABOUT A PACKAGE AND COMPONENT AVAILABILITY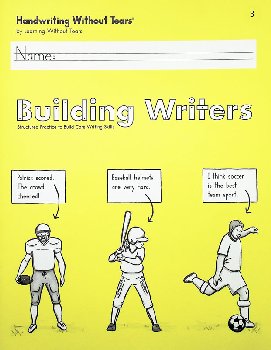 Quick Entry
My Wish List
Exhibit Schedule
Our Consultants
Gift Certificates
Our Ministries
Our Community
News, articles, workshops, discussion and more!
Call: 1.888.841.3456
Email: [email protected]
Privacy Policy
This is Rainbow Resource Center's promise to you: We will not sell, rent, or give your personal information to any other organization. All information is secure inside of Rainbow. All credit card and check information is automatically deleted off of our systems once payment has been received.
Privacy policy and cookies
By browsing this site you accept cookies used to improve and personalize our services and marketing. Read our updated privacy policy for more about what we do with your data, as well as your rights and choices - including how to manage cookies.